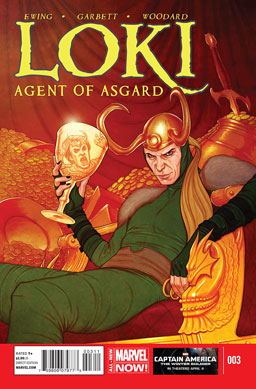 Loki: Agent of Asgard #3
Teen Loki doesn't really appear in this issue — what we're treated to is a tale of the ancient past of Old Supervillain Loki. After Old Supervillain Loki walks out of his secret Asgardian prison, he travels in time to meet a young Odin. After befriending him, Loki kills a giant otter — and Odin only learns later that the otter was actually an innkeeper's son who was able to change his shape. Loki agrees to get the innkeeper and his other sons a vast amount of gold to pay them back — and he gets that by finding a giant gar guarding a hoard of gold and blowing it up with a bazooka. But one of the innkeeper's sons steals the gold and becomes Fafnir the dragon — and then is slain by Sigurd. What does this all have to do with Loki's byzantine plans?
Verdict: Thumbs up. It's a fun story of Loki's treachery — and it's got the mad, anarchic, drawn-out lunacy you expect to see in old Norse legends. Nevertheless, I do wish we could focus on Teen Loki, instead of taking a detour to a villain spotlight only three issues in…
The Premature Burial
Oh, hey, you got a new comic by horror illustrator genius Richard Corben? Working on more Edgar Allan Poe adaptations? Well, do we know anyone around here who'd be interested in that?
What've we got here? Basically adaptations of Poe's "The Premature Burial" and "A Cask of Amontillado." Fairly straightforward, I think.
Verdict: Thumbs up. I'm a sucker for Corben — I love almost everything he does. I did have a bit of a stutter at "Amontillado," which is, far and away, my favorite of Poe's stories — and therefore, it didn't quite live up to my mental image of EAP's tale of cruel, cold-blooded revenge. Still, it's hard to hold that against Corben — both stories are very, very good, and I reckon I shouldn't blame him for not being able to read my mind.
Revival #19
Lots of little things going on — Lester Majak's beloved dog has died and been possessed by a ghost, which then tries to possess Lester. The local rotten wingnut terrorist wannabe is antagonizing the sheriff while his minions get up to something shady undercover. Officer Dana Cypress tries to convince Ibrahaim to help her investigate Em's murder. The mayor is up to something — he's got his wife tied up in the bathtub, and he's hiding something more serious from the Cypresses. And Em meets up with Skateboarding Jesus and the Easter Bunny — and at least one of them is a Reviver.
Verdict: Thumbs up. Some really weird stuff going on, some really ominous stuff, and some really creepy stuff, too — probably ain't nothin' creepier than Lester's dog and his glowing eyes.
Today's Cool Links:
Here's a really interesting long read about how one arrogant media schmuck single-handedly wrecked what was going to be a big-name independent video game jam.
None of the big movie critics understood the Black Widow in Marvel's movies — in fact, they never even tried to understand her.
Marine Todd is really lame when the wingnuts do it, but really awesome when everyone else does it.