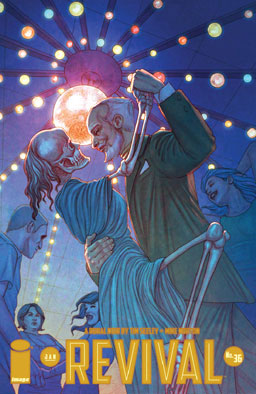 Revival #36
The Cypress sisters are missing and on the run, and the military wants them back in their facility, in jail, or dead — and they're also working on capturing the disembodied souls of the revivers, so they can destroy the threat of the revivers by letting them self-destruct when they contact their souls. Meanwhile, Lester Majak gets in trouble when he can't see below his new girlfriend's surface appearance, and General Cale pays a visit to — no joke — a secret Amish ninja.
Verdict: Thumbs up. It's been a while since we've seen poor Lester, and it looks like he's finally realizing what a lousy person he is. And Weaver Fannie, the sword-slinging Amish warrior, looks like an interesting addition to the cast.
Hellboy Winter Special
We don't see these nearly often enough — a short anthology comic of Hellboy stories. We get a story skulls and shamans in the distant past (written by Mike Mignola and Scott Allie, with art by Tim Sale). We get Hellboy helping settle a bunch of Chinese ghosts trapped in the Midwest (written by Mignola and Chris Roberson with art by Michael Walsh). We get Hellboy and a young Liz Sherman meeting up with a bunch of bad snowmen (story by Chelsea Cain with art by Michael Avon Oeming). And we get Dean Rankine showing us what happens when Lobster Johnson wants takeout.
Verdict: Thumbs up. Stories ranging from goofy to deadly serious, with some late Christmas cheer mixed in with supernatural terror. We should see stuff like this all the time — you can't tell me there aren't hordes of comics creators who wouldn't love to make some short, snappy Hellboy comics, right?
Comments off