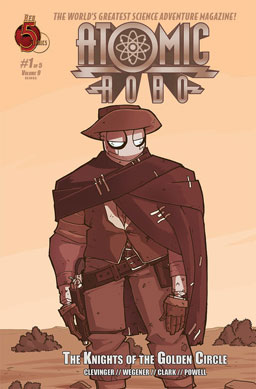 Atomic Robo and the Knights of the Golden Circle #1
After the events of the last storyline, Atomic Robo has been stranded in the American West in 1872. He's trying to keep a low profile and avoid upsetting the timestream. But of course, this is a Western, and keeping a low profile never works for the hero, does it? He rescues an old man shot by outlaws and carts him off to Alamosa, Colorado to find a doctor — too bad the only doctor in town is a dentist named Doc Holliday. But the outlaws have chased them down to the local saloon, and they're threatening to kill everyone in town. And why does everyone think Robo is actually a guy named Ironhide — who died years ago?
Verdict: Thumbs up. Atomic Robo in the Old West? With Doc Holliday? Shut up and take my money!
Southern Bastards #1
We got Earl Tubb, an old man come back to his old home town in Craw County, Alabama. His father was the heroic and ass-kicking sheriff decades ago who carried a baseball bat signed by Bear Bryant, Joe Namath, and Elvis Presley to beat down the thugs who attacked him. But Bertrand Tubb has been dead for years, a tree is growing out of his grave, and Earl is trying to clean out the old homestead so he can get out of Alabama once and for all. But it isn't long before Earl runs afoul of the local redneck crime cartel, and things are just gonna get worse for him from here on out.
Verdict: Thumbs up. I've lived in the South and the Southwest my whole life, but I've never been in the Deep South, or even East Texas. But I recognize these characters, and I feel sorry for them at the same time as I hate 'em at the same time as I love 'em. Stupid Southern cultural genetics. Anyway, this is a great slice of deep-fried Southern noir by Jason Aaron and Jason Latour, and I'm really, genuinely looking forward to more of this. Pick it up while it's still in the stores, guys.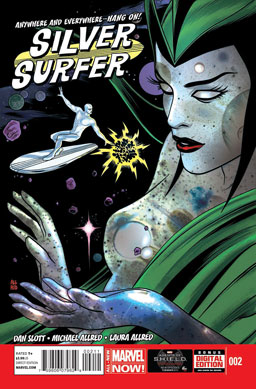 Silver Surfer #2
The Surfer heads out to battle the Queen of Nevers, a being more than powerful enough to destroy him. Instead, he discovers that the Queen is the wronged party here — her heart has been stolen away to keep the glorious Impericon powered. The Surfer resolves to retrieve her heart, but he must be able to sneak back into the Impericon, so he has to disguise himself and hide his cosmic powers deep inside him. Meanwhile, Dawn Greenwood, captured and held captive with a bunch of other aliens in the Motivator Cubes, leads a daring breakout. Can she and the other prisoners escape the planet and save the Silver Surfer at the same time?
Verdict: Thumbs up. Fantastic art, and a story that combines the high cosmic adventure you'd expect from a Silver Surfer comic with a more down-to-earth human story. This strikes me as something that's really going to be amazing.
Today's Cool Links: