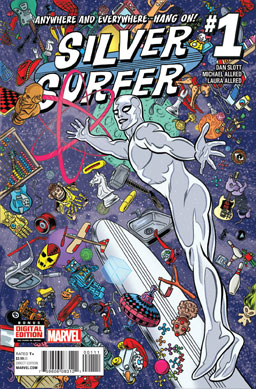 Silver Surfer #1
Another new #1 issue, Marvel?! I am going to hit you guys with a boat anchor.
The Silver Surfer and Dawn Greenwood are finally returning to Earth, but first, they have to foil an alien invasion by a species called the Hordax. Once they get to Earth, Dawn is excited to learn that her twin sister Eve is pregnant, and her family holds a celebration for all the holidays she missed while she was in space. But the Hordax weren't fully defeated, and their next attack on Earth drains the planet of every piece of art, literature, and music — not just the works themselves, but the memories of the works, too.
Dawn and the Surfer fly up to investigate, and they learn that the aliens can use the stolen fiction to take on the appearance and qualities of fictional characters. This leads to several pages of the Silver Surfer dressed up as characters from Doctor Who, Harry Potter, The Terminator, Star Trek, Back to the Future, The Wizard of Oz, Zardoz, Kill Bill, The Little Mermaid, and many, many more. Can even the Surfer's cosmic powers prevail against all the heroes of fiction?
Verdict: Thumbs up. It's a wonderfully fun issue, with great character interactions, an all-too-brief cameo by Mike Allred's Madman, and a ton of aliens cosplaying as fictional characters. This is an issue where you'll really want to pay attention to the backgrounds, just to try to identify who everyone is dressed up as.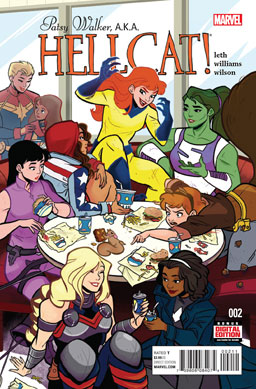 Patsy Walker, A.K.A. Hellcat! #2
Patsy working retail is really not something that works very well, with constant chaos, rude customers, rude co-workers, a shoplifter with a magical Bag of Holding, and a visit from Patsy's old nemesis, Hedy Wolfe, who's begun reprinting all the old Patsy Walker romance comics without Patsy's permission. Can Patsy make it through her first day on the job without getting fired?
Verdict: Thumbs up. Another outstandingly fun comic — fantastic art and dialogue and quasi-drama. It's a blast to read, and I hope all of y'all are enjoying it, too.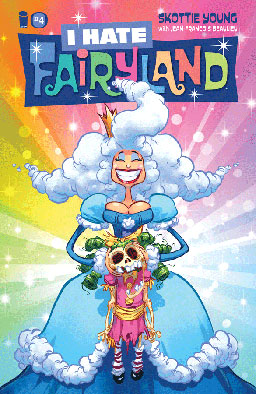 I Hate Fairyland #4
Turns out Gert wasn't as dead as she looked at the end of last issue — just incredibly badly injured, needing a quick heal from Larry's magic stogie smoke. After that, Gert kidnaps Queen Cloudia to get her to spill about why the noxiously optimistic Happy is prancing around Fairyland questing after the magical key that Gert assumed was fated to be hers. Turns out Cloudia's plan is to let Happy get the key — and at that point, Gert becomes just another citizen of Fairyland, which means Cloudia will be permitted to kill her very, very permanently. So while Happy is cruising through the quests and getting closer and closer to the key, Gert decides to bypass all that by harnessing the power of one of the Seven Evil Dooms — in this case, Lord Darketh Deaddeath of the Realm of Skulllllllls. Can Gert handle the monsters in Deaddeath's dungeon?
Verdict: Thumbs up. Skottie Young's art is really what makes this one so much fun. From Cloudia's constantly changing cloud-hair to Deaddeath's skull-themed everything, there's always something wonderful to see.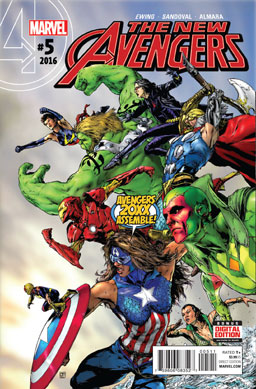 The New Avengers #5
In the future, Billy Kaplan has finally become the Demiurge — unfortunately, he's been possessed by the diabolical cthulhoid monster Moridun, and he's tearing the future Avengers to pieces. They make their escape into the past to try to fix things. Meanwhile, the New Avengers are fighting to mad scientists of W.H.I.S.P.E.R., which is led by the Maker — the alternate reality evil Reed Richards. But the team may have much more serious concerns than mad scientists soon.
Verdict: Thumbs up — but I get the impression this is going to get way confusing way fast. I'm still hopeful — as long as they keep up the great characterizations, as well as the fun we're getting from Squirrel Girl…
Comments off