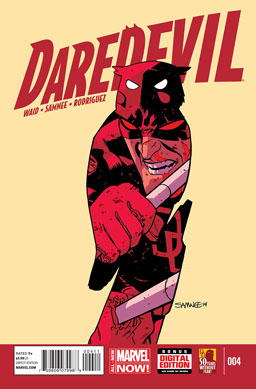 Daredevil #4
Well, looks like the Shroud has betrayed Matt Murdock to the Owl, and he's getting dropped into a below-floor furnace for his troubles. But it's a switchup — the Shroud gets Matt's staff to him, and he makes his escape — but the Shroud has kidnapped the Owl, desperate to learn where his ex-girlfriend is. But the Owl has a price, and he has the Shroud get him into a scientific facility with a plan to use the technology inside to make him omniscient — all-seeing and all-knowing. Daredevil intervenes, he and the Shroud fight, all while the Owl tries to harness the fancy photon tech. Can they stop the Owl in time?
Verdict: Thumbs up. Wonderful action, wonderful art, a nice rebirth for the Owl and maybe for the Shroud, too. Also some nice glimpses into Matt Murdock's new fame. Not easy having no secret identity, is it, Matt?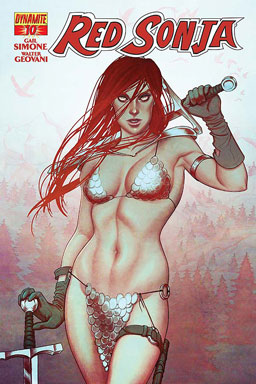 Red Sonja #10
Sonja has to convince the world's greatest swordsman to come with her to prevent thousands of slaves from dying — but he doesn't want to go, and he's really much better with a sword than Sonja is. She never manages to hit him even once, and he leaves her completely humiliated. Is there any way for Sonja to defeat him?
Verdict: Thumbs up. Again, excellent action, art, humor, and a liiiiittle bit of angst in a wonderfully written and clever story.