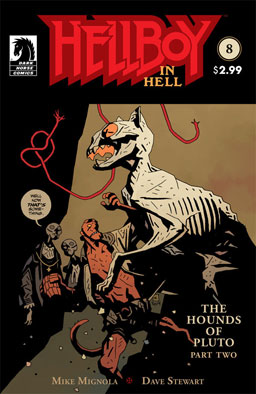 Hellboy in Hell #8
Hellboy must be cured of the condition that's causing him to waste away, and he needs to contend with the giant monster version of Dr. Coppelius, who wants to kill Dr. Hoffman — the only man who can cure Hellboy. Hoffman manages to trap Coppelius in the body of a dead cat — but at that point, you've got a giant vengeful dead cat, which isn't much of an improvement. Once Coppelius is vanquished, Hoffman is able to reveal that the Furies themselves are after Hellboy, claiming that he spilled his family's blood. But it turns out he's innocent — his demonic half-sister is to blame. Who gets punished now?
Verdict: Thumbs up. A very fun story with Mike Mignola's always great art. Loved the depiction of the Furies — a trio of monstrous buzzing green flies.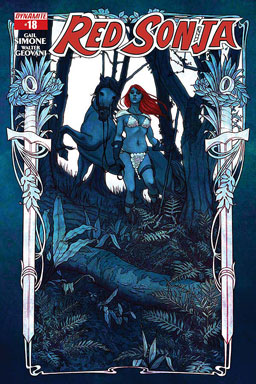 Red Sonja #18
The mad empress still wants the librarians' spire burned down, and Sonja has committed herself to protecting them. While they wait, the librarian-priestesses read her stories from their books. In time, Sonja learns that the Empress has sent her Vipers — three vastly skilled and terribly cruel assassins. She's heard of all three — she figures she might be able to take down two of them, but not all three. So what's to be done? Will evil finally prevail?
Verdict: Thumbs up. A brutal and action-packed story — and a reminder that while Sonja is a devil of a warrior, she also has more brains and heart than anyone ever gives her credit for. This may be Gail Simone's final story in this series, but I hope whoever takes over keeps up the high quality tales.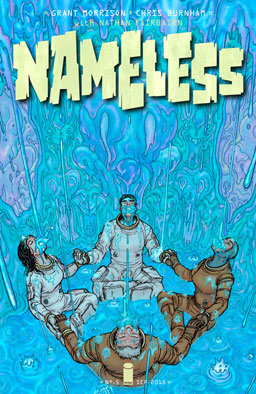 Nameless #5
Against the backdrop of a high-tech seance held in a gloriously eerie haunted house, we learn more (or do we?) about the monstrous and infinite power of Xibalba, and about the horrible past and present of the man called Nameless. Who are Nameless's enemies? Who are his allies? What hope can there be when God is an impossibly sadistic alien serial killer?
Verdict: Thumbs up. Half the time, I didn't even know what was going on — but I still loved every minute. It's creepy, gory, quiet, apocalyptic horror, and the series is still worth reading and enjoying.
Today's Cool Links:
Comments off