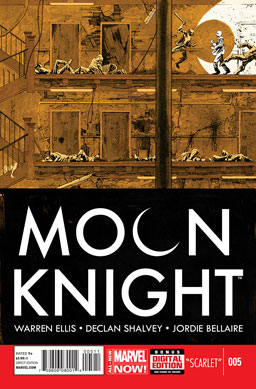 Moon Knight #5
A girl has been kidnapped and is being held on the fifth floor of a six-floor building. Moon Knight, dressed in his incredibly-spiffy white suit, walks up six flights of stairs beating the crap out of every crook he meets. That's it. That's the entire plot.
Verdict: Thumbs up. It's all the plot you need. I hate to say it's a ballet of violence, but screw it, it's a ballet of violence. It's a really, really good ballet of violence. This is the next-to-the-last issue of Warren Ellis, Declan Shalvey, and Jordie Bellaire's run on this series, and I absolutely pity whoever has to follow them up. They've rocked on mysteries, on head-trippy stuff, on superhero stuff, and they've turned a straightforward fight comic into the best darn comic of the whole month. I swear, Marvel should just cancel the series and not force the followup team to suffer through the coming reviews.
Southern Bastards #3
Earl Tubb has embraced his daddy's legacy. He's got himself a great big ass-whupping plank of wood and a desire to visit vengeance on Craw County's scumbags. But beating down on a few rednecks won't solve the bone-deep problems with baked-in Alabama corruption. Earl Tubb is just one man, and if the bad guys can't find him, they'll hurt anyone who has a connection to him…
Verdict: Thumbs up. I don't know where y'all live, but here, it's a roasting hot Texas summer. It gets hot in the morning, gets hotter as the day goes on, and doesn't start to cool down 'til well after sundown. It's a weird feeling — it's nighttime, it's still uncomfortably hot and humid, and as a result, everyone is sweaty and miserable and pissed-off. This comic book feels that way, too. And in this case, that's actually a good thing.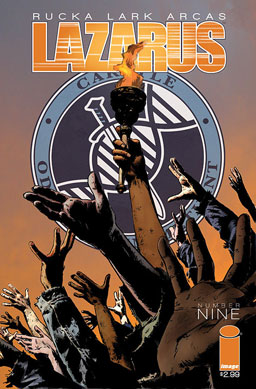 Lazarus #9
It's time for the Lift Selection — the Waste of the world, poverty-stricken, jobless, and mostly unwanted, have a chance to get hired as part of the staff of the Family Carlyle. The Barrets have traveled all the way to Denver and lost a daughter, all in the hope that their remaining child and a family friend can be designated Serfs and save the family from utter destitution. But at the same time, a terrorist is stalking the hordes of people in Denver, hoping to get close enough to the Carlyle patriarch to blow him up with a bomb. Can the Barrets make it through the punishing selection process? And can Forever Carlyle manage to find the terrorist before he massacres hundreds?
Verdict: Thumbs up. It's a tense, well-told, compassionate three-pronged story. The art is gorgeous, the writing is pretty darn grand, and the reader is stuck with conflicting emotions — the Carlyles are representations of a horrible corporate tyranny, but they're also the only hope the Barrets have of escaping grinding poverty — whose side do you choose?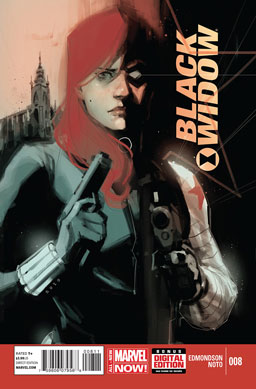 Black Widow #8
While running an op, Natasha runs into the Winter Soldier, and they both get attacked by a horde of mercenaries. While they try to survive the paramilitary assault, Natasha's lawyer is forced to take less-than-legal methods to recover money they haven't been paid and must also deal with the repercussions of being the Black Widow's public lawyer and business agent.
Verdict: As with so many issues of this series, there's nothing particularly wrong with this issue, but it just bored me so much. Fantastic art, though — many kudos to Phil Noto.
Today's Cool Links: