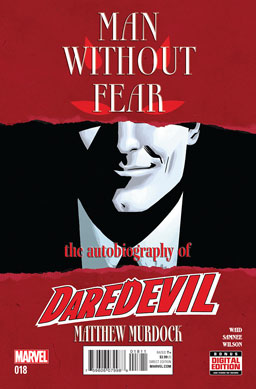 Daredevil #18
Last issue, the Kingpin had Ikari attack Daredevil, but warned Matt that if he beat Ikari, he'd kill either Foggy Nelson or Kirsten McDuffie. And then the Shroud went and screwed everything up by killing Ikari. Now Matt has to masquerade as Ikari and hope Fisk doesn't figure out the switch too quickly. Will Matt be able to beat the Kingpin? The Shroud? The Owl? Will he manage to get his autobiography published after all this time?
Verdict: Thumbs up. Excellent story and art — and the one downside is that this is the final issue of this book for writer Mark Waid and Chris Samnee, who've enjoyed one of the greatest runs that this character has ever enjoyed.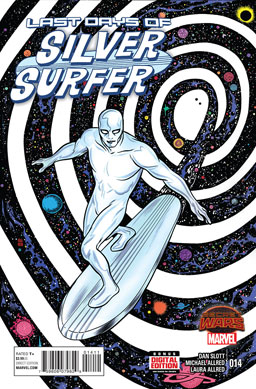 Silver Surfer #14
The almost-certainly-sinister Glorian and Zee offer Norrin Radd and Dawn Greenwood the opportunity to remake the universe — Dawn will be in charge of re-creating the Earth from scratch, while the Surfer is going to handle the rest of the universe. But they run into some challenges — Dawn hasn't seen enough of the world to be able to remake it, and the Surfer is reluctant to remake the galaxy's greatest threats, like Galactus. Can they find a way to succeed, or are they merely the pawns of more devious powers?
Verdict: Thumbs up. It's a fun story, and I'm really eager to see how this is all going to play out. I'm assuming we're heading for the cancellation/relaunch all the other Marvel books are doing, but it's hard to tell at this point.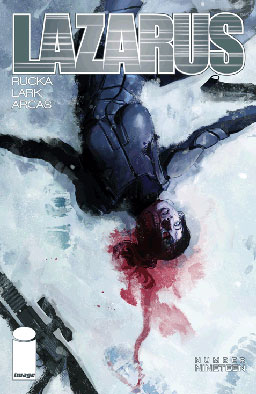 Lazarus #19
Last issue, Forever Carlyle, the Lazarus of the Family Carlyle, able to regenerate from any wound, got shot in the head by one of Hock's soldiers — and she's not recovering from this injury. Her family is in a panic, the soldiers accompanying her are in a panic. This could give Hock a decisive victory over the Carlyles, and her squad is very likely to get killed by Hock's soldiers. Is this really the end of Eve Carlyle? Oh, you can expect it actually isn't…
Verdict: Thumbs up. Nicely suspenseful sci-fi. Sure, we're all pretty sure Eve isn't done for, but it sure takes her a frighteningly long time to get back on her feet. And the family's schemes and machinations behind the scenes are also pretty wonderfully done.
Today's Cool Links:
Comments off