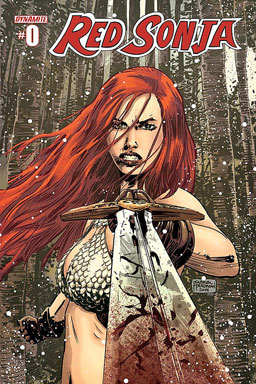 Red Sonja #0
Red Sonja is dead! And left behind is her beloved… husband? Red Malak is a tubby loser who insists Sonja was a delicate princess who loved pretty dresses and flowers. Of course, Sonja soon turns up, very much alive, very much not a delicate princess, and has to deal with the lovesick conman who's slandered her — and the townspeople who think she'll pay for his debts.
Verdict: Thumbs up. A nicely light-hearted story that still has all the action, mayhem, and general crudity you love in Gail Simone's Red Sonja stories.
Clive Barker's Nightbreed #3
In this latest issue of the anthology series, the seemingly demonic Chocolat must protect her hatchlings in 15th century Italy, while during the Summer of Love in San Francisco, a very young Rev. Ashberry learns of the dangers of temptation.
Verdict: Thumbs up. Pretty well-done storytelling — and nicely themed, too, as we get twin studies on the natures of good hiding within apparent evil, and evil hiding out within the appearance of good.