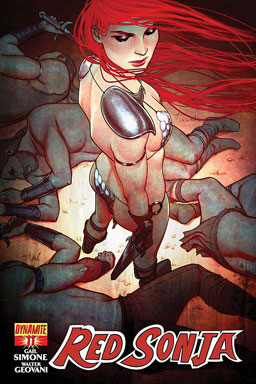 Red Sonja #11
Sonja and her compatriots — some of the greatest artisans and warriors in the world — make short work of a bunch of cutthroats and then move on to the next person they're supposed to recruit — Plaitius, the world's greatest soothsayer. But he's being held captive by a tyrannical and prudish theocrat, and he's decided to have Plaitius executed. If he recants his prophetic powers, even untruthfully, he'll be released. But he refuses to do so, convinced that it's better to die than to renounce his gifts. Is there any way Sonja can rescue him from his well-defended prison?
Verdict: Thumbs up. As always, an excellent story and excellent art, and plenty of excellent action.
Ghosted #12
Jackson Winters has been sprung from jail by the feds, and he's being put on a new team, including former friend and former skeptic Oliver King, Nina Bloodcrow, and a hardass called Agent Creed. They want him to figure out why there's been an increase in paranormal activity worldwide. They also want him to track down a street magician named Damian Charon, who's been seen in the vicinity of several hauntings. Jackson recognizes him — he's actually his late friend Trick's estranged son, Danny. And it turns he's running a profitable business creating his own hauntings.
Verdict: Thumbs up. Nice establishment of the setup for this new storyarc. It's clear we'll have lots of conflict on this one — Jackson hates Oliver, Creed hates Jackson, and Danny Trick clearly hates everyone. More ghosty fun incoming.