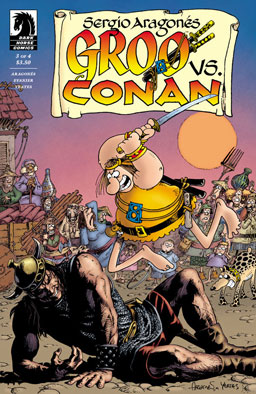 Groo vs. Conan #3
Poor Sergio Aragones is still over-medicated and completely out of his mind, running amuck in a Renaissance faire. He's arrested and taken to jail — but then there's a jailbreak, and the prisoners drag him away with them. Meanwhile, in our mix-and-match fantasy world, Conan has realized that Groo is not a gigantic monster — just a complete idiot. But he's still a dangerous combatant. Is he too much for Conan to handle?
Verdict: Thumbs up. Great cartooning, humor, and action. It's still fun to see these two wildly-different characters interacting together, partly humorously, partly seriously.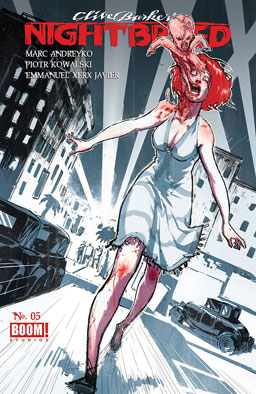 Clive Barker's Nightbreed #5
Our origin stories in this issue focus on devil-faced Lude and two-faced Annastasjia. Lude's story starts back in Germany in the 1600s, when his mother is attacked by a demonic satyr and later gives birth to an adorable, obsidian-skinned, fanged, horned baby. Annastasjia's is more recent — the 1920s — when she was a vain, shallow movie star, scarred in a bar fight. Her efforts to regain her beauty lead her into methods very far from medical science.
Verdict: Thumbs up. It's still kinda hard for me to believe I'm enjoying this as much as I am. The stories are still fun — and monstery and gross and often funny — and there are a lot more of the Nightbreed the creators can mine for stories…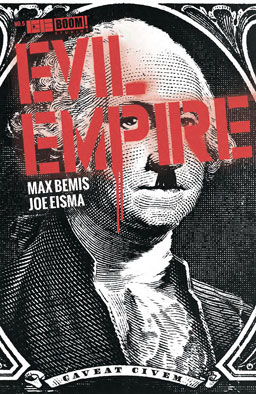 Evil Empire #5
We get a break from the main storyline as we meet up with Ace, a serial killer, and Talia, his chosen victim. Ace's gimmick is that he prefers to tie his victim up and make her watch him torture and murder people for days before finally killing her. He's moderately well-adjusted, socially and mentally — he just likes to kill people and mentally torture women who remind him of his mother. But as the country starts to go to hell during the presidential campaign, Ace starts discovering that life is a lot more dangerous — people are murdering each other left and right, and no one's getting in trouble for it. And when everything is permitted, Ace really doesn't get the same charge he used to get from serial murder. Is there hope for his redemption?
Verdict: Thumbs down. I liked parts of this — the humor is really quite well done. Ace complaining about his new doubts about serial killing comes while he's eating a body, for example, and his murderous impulses are largely played for laughs. The thing is, I'm buying the premise of the story less and less, and I especially couldn't believe that a serial killer would give it all up just because everyone else is a serial killer, too.