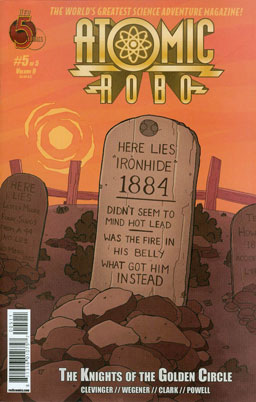 Atomic Robo and the Knights of the Golden Circle #5
Helsingard's zeppelin, the War Machine Basilisk, is on the move, and Atomic Robo, Marshall Bass Reeves, and Doc Holliday are aboard trying to fight off wave of cyborg outlaw soldiers to bring it down. A few problems: Reeves and Holliday are armed with six-shooters, which are not as effective as they'd like, and Robo's atomic batteries are just about to run bone-dry on him. Can they stop Helsingard's plans of conquest? Well, that's a pretty sure thing, actually, since history didn't show that Helsingard won. But where does this all leave Robo? Nowhere good, either in the past or the present.
Verdict: Thumbs up. Trying not to give away any spoilers — but could Brian Clevinger and Scott Wegener maybe start the next series right now? Like, seriously, right now? Because after this cliffhanger, I really, really can't wait.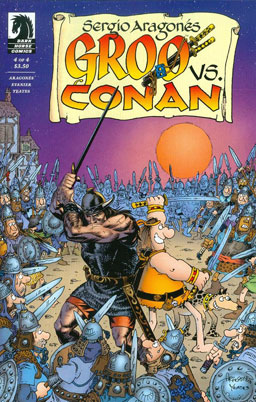 Groo vs. Conan #4
Everyone seems to think either Groo or Conan has been slain, but it just ain't so — their battle continues, with neither able to gain the upper hand. Groo's stupidity keeps frustrating Conan, while Groo continues trying to destroy the bakery. Elsewhere, Sergio is still hopped up on pills and thinking he's Conan — and the friendly neighborhood comic shop may still be torn down! Can any hero solve all these problems?
Verdict: Thumbs up. It's been a really cool series, very much in the vein of "Archie Meets the Punisher," with the cartoony Groo meeting up with the more realistic Conan. Lots of good jokes, ranging from the expected stuff from Groo to gags about MAD Magazine — and even Conan gets a few subtle jokes in here and there. Definitely worth picking up the collected edition, whenever it comes out, if you haven't yet read the series.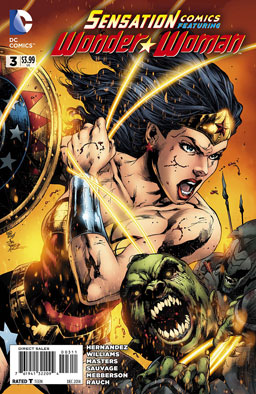 Sensation Comics #3
A trio of stories in this one. First, Wonder Woman is a combination of superhero and rock star, meeting fans and confronting bullies; second, Wonder Woman meets up with Catwoman, whose scheme to steal the Golden Fleece has Diana facing a dragon; third, Gilbert Hernandez of "Love and Rockets" writes and illustrates a tale in which Wonder Woman is captured and hypnotized by Kanjar Ro.
Verdict: Thumbs down. None of these stories was particularly well-written. The first one is crammed to the gills with illogic, strawmen, and clumsy dialogue and interaction. The second was full of situations where Wonder Woman does the dumbest possible thing every time. (Take Catwoman out of police HQ? Take her to a cafe? Lug around the loot she stole without leaving it in police custody and without even checking to see what it was? Sure, Diana would do all that stuff.) And the third featured sometimes clumsy artwork and Diana being captured way, way too easily by the aliens.
Today's Cool Links:
Comments off