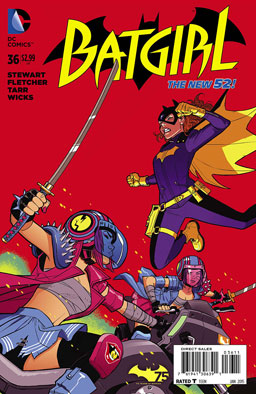 Batgirl #36
Barbara is meeting more of her supporting cast, but runs into unexpected trouble — someone has stolen a couple of experimental motorcycles from the university, so it's not long before Batgirl has to take on a two girls dressed in weird anime-style costumes who are terrorizing the campus on the bikes. They get away, but Babs realizes they were made up to look like the villains on an old anime she watched when she was a kid. Can Batgirl stop the villains? And why do they think Batgirl herself hired them?
Verdict: Thumbs up. Really fun art, full of cool fashions and kinetic action, plus the occasional awesome slow moment — in this issue, Barbara's memory of watching cartoons with her father is a real standout.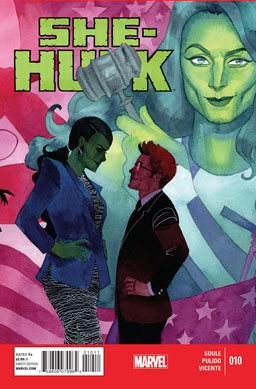 She-Hulk #10
Steve Rogers finally takes the stand in his own defense in the wrongful death suit against him, explaining some information that the jury wasn't aware of before — namely, that the gang they ran into on that night back in the late 1930s wasn't any run-of-the-mill mob — it was run by a gas-masked Nazi. But is that going to make any difference to the jury?
Verdict: Thumbs up. It's a great issue with lots of great speeches, both in and out of the courtroom, and relatively little face-punching. Fantastic art, fantastic writing, multiple fun guest stars. And I'm still deeply disappointed that this one is getting cancelled in just two more issues.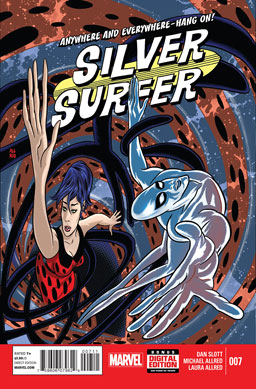 Silver Surfer #7
The Surfer and Dawn explore an utterly starless area of space. They're lured in by a mysterious beacon, and then Dawn is unexpectedly kidnapped by a hidden monster. The Surfer and his board (Toomie, remember? Best possible name for a cosmic surfboard) are unable to find her. This leads to several flashbacks to their previous unrecorded adventures, including an attack by space hillbillies in which the Surfer foils them by turning their Hostess fruit pies into golden rings. Can the Surfer find Dawn again, or will he have to make a sacrifice he swore he'd never attempt?
Verdict: Thumbs up. I'd love this one just for the bit with the space hillbillies and the fruit pies. But the art and storytelling throughout are fantastic, which makes it even better.
Today's Cool Links: