Sensation Comics #4
Another three stories here — first, we get the continuation of Gilbert Hernandez's story from last issue. I didn't enjoy the first part much, but this one is basically Wonder Woman, Supergirl, and Mary Marvel knocking each other around for a half-dozen pages, and it's basically so over-the-top, it's completely hilarious. Our second story features Diana grown to a several hundred feet tall to fight a giant monster. And in the third, Wonder Woman, Etta Candy, and Deadman team up to battle Ra's Al-Ghul.
Verdict: Thumbs up. Again, Hernandez's story has so many ridiculous punches, and it all ends up so funny. Yeah, Wondy's arms are maybe a bit too massive, but I found myself a lot more accepting of that when the story was so funny. The other stories are pretty good, too, and they all star pre-Reboot versions of all the characters, which I always approve of.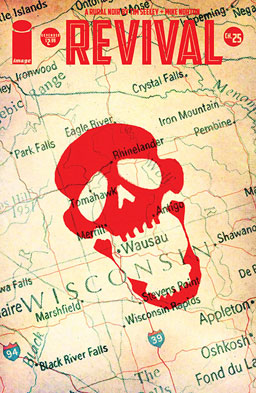 Revival #25
The bulk of this issue focuses on the facility the feds are using to secretly imprison revivers. The weird reviver cult stages a public protest to publicize its existence, and that leads Sheriff Cypress and his deputies to learn about it, too. Dana learns that Ibrahaim knew about the facility, too, which puts a serious crimp in their developing relationship. Plus the burned assassin reviver attends his daughter's funeral, and the cult members start nailing themselves to crosses.
Verdict: Thumbs up. Not the greatest issue in the world, but not too shabby either. It'll be interesting to see what happens now that the government's plans for the revivers has become more public knowledge.
The Multiversity: Pax Americana #1
Welcome to Earth-4, where the heroes from the old Charlton Comics live, like the Question, Blue Beetle, the Peacemaker, Captain Atom, and Nightshade. But what's got everyone so upset here is that President Harley has just been assassinated — by the Peacemaker. No one seems to know why, and he isn't talking. Captain Atom is impossibly aloof and more than a little mad because he can see outside of time and space, and the rest of the heroes are useless in the crisis, spending most of their time in pointless squabbles. Why was the president killed? How much of the murder was President Harley's own idea?
Verdict: Man, I don't know. It's a deeply opaque and moderately irritating story — but really, the whole point here is watching Grant Morrison create his own version of Alan Moore's Watchmen, right down to the intricate panel/page designs, using the very characters that DC wouldn't let Moore use for his epic. Is it great storytelling? Is it quasi-ironic postmodernism? Is it just one comics genius sniping at another? I wish I could tell you. But I will say that Frank Quitely's art is, as always, dang fun to look at.