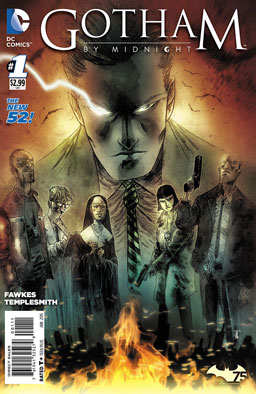 Gotham by Midnight #1
Here's a new series from the Bat side of things, focusing more on the supernatural horror side of Gotham City. Our main characters are the staff at Precinct Thirteen, the Midnight Shift, operating out of a junked-out office building somewhere in Gotham. Some of them are cops, some of them are civilian consultants, including a forensics specialist and a nun — and one of them is Jim Corrigan, who is better known as the Spectre. New on the scene is Sergeant Rook, from Internal Affairs, who plans to get the precinct shut down as an obvious waste of money.
The team gets a case, the aftermath of a recent kidnapping. The Attwood girls were supposedly runaways who returned home a week ago — but the girls are now speaking in an unknown language, and they don't seem to recognize their parents anymore. But Corrigan determines there may be a connection to the notorious Slaughter Swamp, and he takes Rook with him to check it out. And of course, what they find is definitely not good news.
Verdict: Thumbs up. Nicely weird, claustrophobic story by Ray Fawkes, and wonderfully offbeat art by Ben Templesmith. It's got a great creepy vibe, and I hope they keep that part of it running full blast.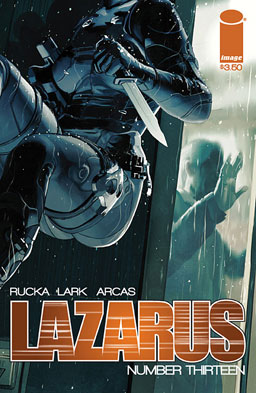 Lazarus #13
As the Conclave between all the Families continues, it becomes more clear that the Lazarii are by far the most interesting people on board, as well as, for the most part, the most decent. It's also clear, unfortunately, that if the Families order them to fight, they'll all try to kill each other — and that at some point, they're all definitely going to try to kill each other.
At any rate, Forever attends a poker game between all the Lazarii, and we get to meet a lot of really interesting people having a lot of fun, and a couple who are too cranky to have any fun at all. Forever gets to make some time for romance with Joacquim, but the fun times stop pretty quickly when the Families determine that Hock's drugs are at least partly based on the Carlyles work. So Forever's father has an assignment for her, and it involves her kidnapped brother.
Verdict: Thumbs up. This is worth it entirely for the interactions between Forever and the other Lazarii. I know Rucka is setting us up to see a lot of them get killed, but there's no question that it's wonderful fun to watch them play cards together.
The Manhattan Projects #25
In what may be the last issue of the series, LBJ is sworn in as president, and he, Groves, and Westmoreland make their plans to take over the world; Feynman, Einstein, and Einstein continue their explorations of other dimensions; the Soviets work on their bizarre alien schemes; Von Braun is captured by aliens; and Gagarin may finally be reuinited with the transmogrified Laika.
Verdict: Thumbs up, I think. I don't like the idea of this series going away, but they say it'll be back somehow — and for now, what we have is a good way to leave the characters, all scheming, all discovering…