Astro City #19
This issue has nearly all of its focus on more of Quarrel's backstory, as she establishes herself in Astro City, saves Honor Guard and is then inducted into the membership, meets and starts working with Crackerjack, and suffers what could be a career-ending injury. How did she survive it and remain a superhero?
Verdict: Thumbs up. I'm really enjoying learning more about Quarrel. She's always been a background character, so it's great to see her step into the spotlight.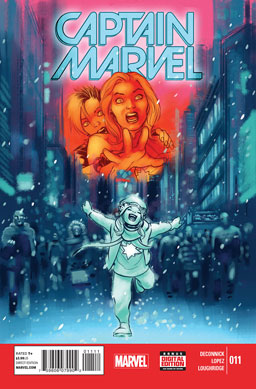 Captain Marvel #11
Carol has come back to Earth at Christmas to visit friends. She spends the night at the hospital with her ailing friend Tracy Burke, but she ends up getting captured by Captain Marvel-hating mad scientists Grace Valentine and June Covington, who dampen her powers, kidnap a homeless mall Santa, and prepare to torture and kill both of them. But it turns out the homeless guy has a very big trick hidden up his sleeve…
Verdict: Thumbs up. Probably would've been better if they'd released this one before Christmas, and if they'd explained the huge coincidence of kidnapping that specific mall Santa. But I still had a lot of fun reading it. The writing and art were top-notch, just as we've usually come to expect with this comic.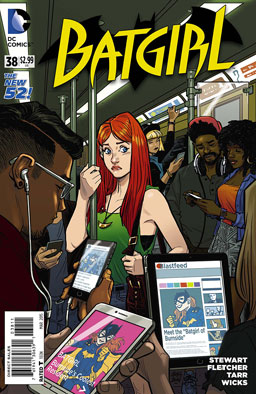 Batgirl #38
Barbara decides she wants to make sure no one else is able to coopt her identity as Batgirl, so she starts making sure she gets in social media a lot — mainly, letting fans take pictures of her to put on Instagram — and sometimes, taking selfies of herself fighting crime. Not everyone is happy about this — Black Canary thinks she's grandstanding and not being a serious crimefighter, while her cop boyfriend thinks Batgirl is just as bad as any villains she fights because she wrecks police investigations. All of this makes Babs want to win over even more people, and she decides to do this by taking down the local bad boy, Jordan Barberi, who likes to wreck things up in his fancy sports car while his lawyers make sure he gets in no trouble. But things don't work out the way she planned.
Verdict: Ehh, I don't know. The action is excellent, and the characters are fairly fun. The main problem I'm having with this series right now is that every issue has an extremely strong focus on social media and nightclubbing. More realistic, maybe, for someone about Barbara's age. But I think a lot of people had an expectation that this title would become more all-ages friendly, and while we've got a cooler costume, and Batgirl isn't a relentless downerfest like it used to be, it'd be tough to find a reason to put this comic in a little kid's hands when there's so much in here about drinking and hookup apps. That probably just makes me an old fogey…
Today's Cool Links: