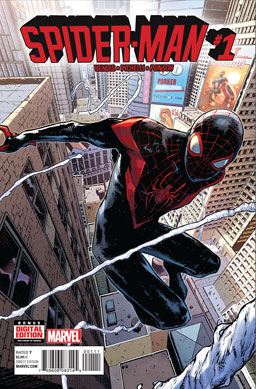 Spider-Man #1
Well, I never read the previous Miles Morales comics, because I generally avoided the Ultimate universe once it got so pointlessly screwed-up. So a lot of this is backstory I've never been aware of, and some of it is stuff that I've learned by reading what other people have to say about it.
So let's start from the top. Miles Morales is the Spider-Man from the Ultimate universe, and he now lives in the main Marvel Universe. He's not alone — his family is here, too, including his mother, who actually died several years ago. Some of his friends are here, too, including his best pal Ganke. But all is not rosy in Miles' new world — he's not doing well in school, and he has to cut class to go fight supervillains.
And the latest supervillain is a doozy. By the time Miles shows up on the scene, he's already beat the stuffing out of Iron Man, Thor, Captain America, Vision, and Scarlet Witch. His name is Blackheart, and he's a huge and absolutely terrifying demon — and he's way out of Miles' league. So why does he beat it so quickly? And why does that make Peter Parker so angry?
Verdict: Thumbs up. Lots of cool character work on Miles and his supporting cast, and the action is good, too. My lone quibble — this is the first Marvel comic I've seen in ages that didn't come with an intro page summary — and this one really needed it for people who weren't more familiar with Miles.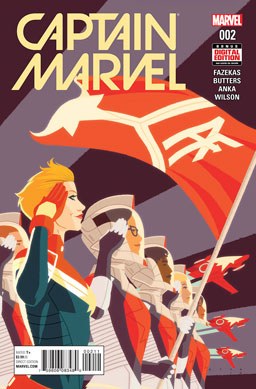 Captain Marvel #2
Carol and the members of Alpha Flight explore the derelict spacecraft that crashed into the space station last issue. It's dark and spooky and unpleasant, and there's goo everywhere, and some dead aliens, and way too many automated defense systems. Even when they get back to the space station, the trouble isn't over. The enemy attacking them is probably aboard the ship — and Captain Marvel sustained more serious injuries from the ship's defense systems than she thought…
Verdict: Thumbs up. Fantastic horror-movie atmosphere on board the spacecraft, and it's great to see Alpha Flight doing more than standing around looking purty.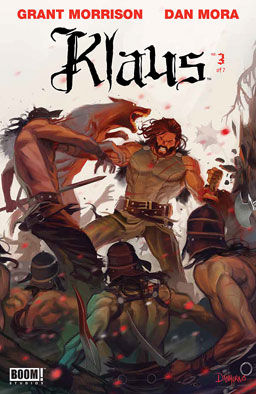 Klaus #3
Lord Magnus's men sic a bunch of dogs on Klaus, but his wolf Lilli scares them off. By the time the guardsmen make it to the square, they find Klaus' footprints and Lilli's pawprints — and they start worrying they've got a werewolf on their hands. The captain orders his men to watch every door, so Klaus will have to find another way to get toys to the poor children in Grimsvig. Meanwhile, children are sending their wishes up chimneys, Magnus's wife is keeping secrets, and there's something horrible hiding inside the mines.
Verdict: Thumbs up. Good story, fun art — but with another four issues to go, we won't finish this Santa Claus origin story 'til summer. That's just poor planning, y'all.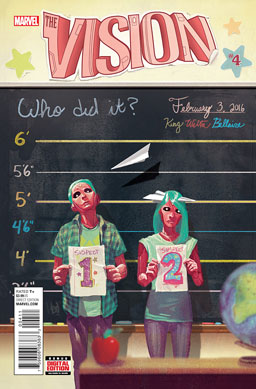 The Vision #4
With Viv recovered and back home, it seems that happy days are back for the Visions — but Virginia still has her mysterious blackmailer holding the secret of the Grim Reaper's murder over her head. Most of the kids at school don't like Vin or Viv — except for Viv's lab partner, Chris Kinzky, who Vin beat up after she was injured. But Chris likes Viv a lot — which is going to make it really uncomfortable when it turns out that his dad is the blackmailer…
Verdict: Thumbs up. As creepy as always — and now starting to read as much like a Greek tragedy as anything. There's no way anyone is getting a happy ending out of this, not a chance in hell.
Comments off