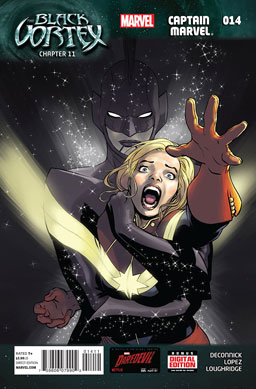 Captain Marvel #14
This is all the way into chapter 11 of the X-Men/Guardians of the Galaxy "Black Vortex" crossover, so it's a pretty good guess we don't know what the heck is going on. Basically, there's this ancient artifact called the Black Vortex — it's been lost for millennia but has finally showed up again. Basically, it's a big mirror, and it shows you what you'd be like with insanely powerful cosmic powers — on a level with the Silver Surfer — and if you like what you see, it'll turn you into an insanely powerful cosmic supervillain, because power corrupts, and absolute power makes you absolutely crazy. Beast, Angel, and Gamora have already grabbed at the shot for ultimate power (We see them in just one panel in this issue), and with other villains trying to get their hands on the mirror, Captain Marvel whisks it away into space in an attempt to keep it safe.
Well, first, if you ever decide to fly to outer space to keep something safe from cosmic supervillains, maybe you don't understand how cosmic supervillains really work, 'cause sure enough, Carol doesn't get three pages into the story before one of the bad guys shoots her with ray guns. From there, it's a wild battle to keep the villains from killing her and taking the mirror away — but once Carol finally catches a glimpse of how powerful she could be in the mirror, will the battle be all over?
Verdict: Thumbs down. Getting in on the very middle of a crossover for just one issue, when no one knows what the heck is going on? And when the only interesting cosmic villains — Beast, Angel, and Gamora — aren't in the story at all? And when none of the other crossover players are present either? And Carol handled these three or four cosmic-powered baddies incredibly easily, considering that people on the Silver Surfer's power level should've mopped the floor with Carol. No, sorry, this one is a stinker.
Astro City #22
A character we've seen periodically in the background of other stories is Starfighter, a cosmic superhero who had his glory days in the '70s — and a stylin' '70s 'stache, too. Nowadays, he doesn't look much like a superhero. He's Duncan Keller, an aging hippie who writes science fiction novels — but he still finds time to use his slowly fading cosmic powers to visit his wife Illula and his two kids Trill and Artie on their homeworld of Jarranatha. Duncan reminisces about his past and worries about his powers — and he learns that there's more to life than being a superhero.
Verdict: Thumbs up. A fantastic story by Kurt Busiek, with strong roots on Earth and in outer space — and fantastic artwork by guest artist Jesus Merino, who gives Duncan the face of a man who's lived hard but isn't sorry — and isn't finished either. Like just about every issue of "Astro City," I would love to read more and more stories about Duncan Keller and his family.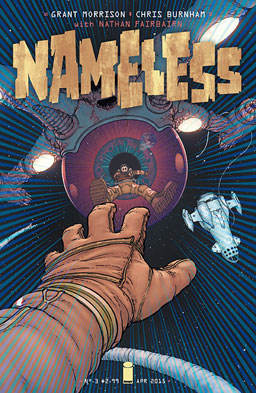 Nameless #3
Nameless and the rest of the crew of the exploratory ship are busy checking out the monstrous asteroid Xibalba, but things are going weird — or at least weirder than they expected. Their robot drones aren't responding the way they expected and soon stop broadcasting. The massive door they opened reveals even more massive stairs. Their benefactors have gone violently insane. And the monsters in the basement of the universe are about to drag everyone into their horrific torture chambers.
Verdict: Thumbs up. Ye gods, this is creepy as hell. Oh, yes, bloody and violent and chock-full of creative disfigurements. But the creepiness is fantastically well done. I hope you're reading this one, horror fans.
Today's Cool Links: