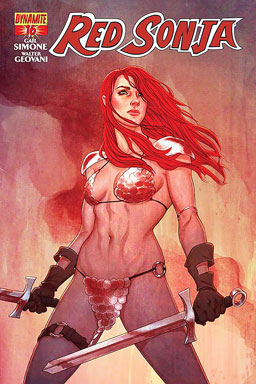 Red Sonja #16
Sonja has died — or almost so — and meets Death herself, who looks a lot like Sonja, actually. Death wants her on her honor guard, but Sonja has never been one to serve anyone, and she'd much rather try her luck at killing Death herself. Meanwhile, back in the real world, the townspeople are tending to Sonja, trying to figure out a way to cure her, when she gets unexpected visitors — the great artisans she'd collected in a previous storyarc: Gribaldi the chef, Aneva the courtesan, Rat the beast-tamer, Osric the swordsman, Plaitius the soothsayer, and Rakaua the dancer. And then more visitors: from the very first storyarc in Gail Simone's run on this title, Ayla, Nias, and Dark Annisia, resurrected with the aid of an alchemist's potion. Can Sonja defeat Death? Can Sonja be brought back from the brink of death?
Verdict: Thumbs up. This may be Simone's final issue on this series — it's certainly written like a final issue. If it's not the last one, Simone is leaving herself a big hurdle to top this one. It's hard to get much more epic than a duel with Death and a reunion with all your friends. Great story, great art — more evidence that this has been a thoroughly glorious fantasy series.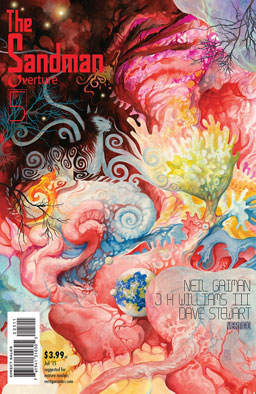 The Sandman: Overture #5
The mad sun has thrown Morpheus into a black hole — where not even he may be able to escape. He gets a brief respite when his mother pulls him out for a chat, but while he wants to save the universe, she only wants to manipulate him into staying with her forever — and when he refuses, she drops him back into the black hole. But then he's re-rescued by Destiny, who's frustrated that there's a ship in the middle of his garden — and it's clearly been built by Dream, even though Dream has no memory of creating it. And the cat version of Dream has been keeping busy by traveling to the worlds being destroyed by the mad stars and rescuing people.
Verdict: Thumbs up. Not a lot of it makes sense yet — hopefully, that will come in the final issue — but the story is told with a great deal of style with a lot of gorgeous art by J.H. Williams III.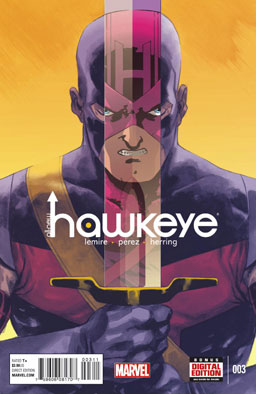 All-New Hawkeye #3
Kate Bishop and Clint Barton are aboard a S.H.I.E.L.D. helicarrier waiting to find out what the spy agency is going to do with the mutant kids they rescued from A.I.M. Maria Hill strongly hints to them that they should do something to extract the kids from S.H.I.E.L.D.'s care before they're used as weapons. After a few pages of whuppin' and a ride out of the helicarrier on a flying car, they get the kids home — but how long will they be allowed to keep mutant super-psychic kids?
Verdict: Thumbs up. Great art and a nice story. A nice storytelling gimmick, too, with the pastel watercolor story of young Clint and Barney's trip to the circus told along the bottom of each page.
Today's Cool Links: