Astro City #24
We met Sticks last issue. He's an intelligent gorilla from a secret city of fightin' gorillas, but all Sticks wants to do is hang around Astro City and play drums. But supervillains keep trying to turn him into their lackey, and in an attempt to get away from that, he decides to join a superteam called Reflex-6. He's an effective crimefighter — but superheroing just isn't in his blood, so he quits to go back to full-time drumming. But then he and his bandmates are attacked by more supervillains — and he can't bring himself to let them be harmed, too. Is there a solution to his problem?
Verdict: Thumbs up. It's not a perfect issue — we get way too many side-characters, many of whom are of minimal importance, and I don't entirely buy the superhero band — and Sticks' later alter-ego as Tuxedo Gorilla is really just way too silly. But aside from that, the character work is excellent, the art is wonderful, and while I'm not a big fan of Reflex-6 or Powerchord, I really want to see more stories where superheroes fight monster supervillains like the Screampunks and an evil snow globe called… Snowglobe.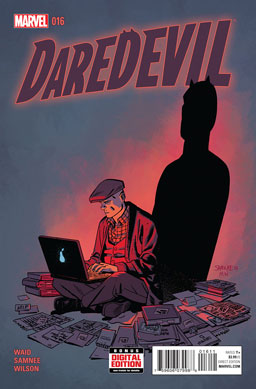 Daredevil #16
Everyone thinks Matt is a bad guy — and even worse, they think all of his associates are crooks, too, thanks to the machinations of the Shroud. So he has to go make a deal with the one person he really, really doesn't want to make a deal with — Wilson Fisk, the Kingpin. Why should the Kingpin help the Daredevil? Matt is offering him the death of Matt Murdock — he's willing to let the Kingpin stage Murdock's death, convincing everyone he knows that he's truly and finally dead, to give him extensive plastic surgery so he'll look nothing like he used to, to give him a new name — Daredevil will still be operating, but Matt Murdock will be no more. While Kingpin considers the offer, Matt gets a tip that Julia Carpenter, once the second Spider-Woman and the ex-girlfriend of the Shroud, is coming into San Francisco, so he heads for the airport to intercept her. But the Shroud and the Owl's daughter get there first. And the Kingpin has another plot — and another minion — in reserve.
Verdict: Thumbs up. As always, fantastic art and writing — and cliffhanger after cliffhanger after cliffhanger. A particularly fine moment, by the way, is the moment when we finally get the see the chilling paintings in Fisk's gallery — artwork which Matt is unable to see…
Howard the Duck #4
Well, Howard managed to get the mysterious necklace for the mysterious Mr. Richards, only to find out that Mr. Richards was actually Talos the Untamed! A Skrull who can't shapeshift but is still somehow a supervillain! But Howard still wants his money, honey, so he and Tara Tam pay a visit to Dr. Strange to see if he can magically track the necklace. It turns out the necklace contains a gem — not one of the Infinity Gems, but from a set that's a good deal weaker. Still, if you assemble them all in one place, you could potentially destroy the world with them. So Howard, Strange, and Tara recruit Johnny Storm to help — but can they beat Talos to the prize?
Verdict: Thumbs up. Thoroughly excellent writing, art, and humor. Loved the bits with Strange's contest against the demon Thog, the details of the (fingerless) Abundant Glove, and Johnny Storm's utterly noxious pick-up lines.