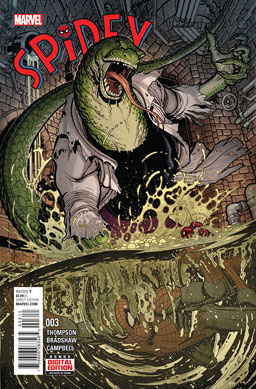 Spidey #3
Poor Peter Parker has money troubles — and even worse, Aunt May does, too. But can he do anything to help when all his free time is taken up by school, being bullied, and fighting supervillains? And speaking of supervillains, the Lizard is back, and he's growing a ton of mini-lizards in an attempt to take over the world. So where does Spidey have to go to track down the Lizard's lab? The sewer, of course. And who does he run into down there? Even more mini-lizards and one great big angry Lizard. Can Spider-Man make it back to the surface alive?
Verdict: Thumbs up. Beautiful art and a fantastic, classic story. This comic is just wonderful, and it's weird that it doesn't get a lot more attention.
Howard the Duck #4
So Howard — now the Living Nexus of All Realities — has been captured by a cosmic baddie called the Stranger, but he's quickly rescued by a woman named Scout, who is the new Herald of Galactus. But actually, she isn't — she's just a human who mugged Alicia Masters for a bit of the Silver Surfer's metal so she could get cosmic powers. In fact, she's a Galactus fangirl, and the Big G doesn't think much of her. But the Silver Surfer rescues Howard, briefly, and even gifts him with enough of the Power Cosmic to turn him all silvery and nakedy. He and the Guardians of the Galaxy rescue each other — and then it's right back into the clutches of the Collector.
Verdict: Thumbs up. It's entirely fun, and it's great to see Howard with some real power for once, even though we can expect it to last maybe two pages in the next issue…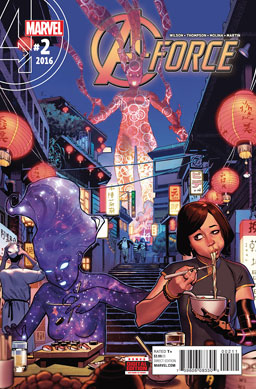 A-Force #2
The giant monster called Anti-Matter wants to destroy Singularity — and anyone else he can, too. He gets Medusa good and angry, and she uses Inhuman technology to teleport him to the moon. Singularity then teleports Medusa and She-Hulk to Japan, where Nico Minoru is trying to live a normal life. Of course, Anti-Matter returns, and Nico manages to "un-make" him — but this is still a temporary solution, because he will re-form. They all meet up with Captain Marvel, then go looking for Dazzler, hoping she can hit Anti-Matter with more light than he can process, giving them the opportunity to study him quickly and learn what his weaknesses are. They find Dazzler playing roller derby, and she's a lot more punk-rock and a lot angrier than she used to be. But can she help fight off the monster?
Verdict: Thumbs up. This issue is a lot more fun than the first. There's a lot more action, much more fun dialogue, and cooler characterization. It's also great to finally see Nico and Dazzler again. (Do you think there's a database in the Marvel offices to keep track of all the magic words Nico uses, since she can use each one only once?)
Comments off