Ms. Marvel #17
The end of the world is happening, and Kamala Khan has finally gotten to meet her idol, Carol Danvers, Captain Marvel. After the two Marvels bond for a bit, Kamala recruits Carol to help her find her brother, Aamir, who's been kidnapped by the rogue Inhumans, including Kamala's former crush, Kamran, so they can activate his Inhuman powers and try to turn him into a supervillain. Will they be able to make it across town, do some good for the people in Jersey City, fight the occasional supervillain, and figure out where Aamir is being held before it's too late?
Verdict: Thumbs up. Fantastic writing, characterization, and art. It's great seeing the little moments where Kamala can help her fellow citizens — as well as the moments where there's little she can do. As always, the great joy of Adrian Alphona's art is checking the fun bits hidden in the background.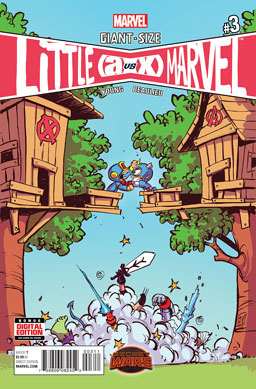 Giant-Size Little Marvel: A vs. X #3
The Little X-Men and Little Avengers are still working hard to impress newcomers Zachary and Zoe to get them to join their teams. The X-Men give them their own (temporary) mutant powers and let 'em run wild in the Danger Room, while the Avengers take 'em to Asgard, let them jump on spider-web trampolines, and let them play with some of Iron Man's Hulkbuster armor. The ensuing explosion introduces them to Galactus, Thanos, and the Guardians of the Galaxy.
Verdict: Thumbs up. Skottie Young's cartooning is endlessly awesome. Almost every panel is grand fun to look at.
Today's Cool Links: