Moon Girl and Devil Dinosaur #1
So what do you get when an immense, quasi-intelligent tyrannosaur travels through time and meets a schoolgirl with a genius intellect and limited social skills? You get a great big bucket of glory, that's what you get.
Verdict: Thumbs up. Oh, come on, you didn't even need that much plot outline, did you? Brandon Mongclare and Amy Reeder write the story, and Natacha Bustos provides the art. We get a wonderful heroine in intelligent, awkward, arrogant Lunella Lafayette — and in the original Moon Boy's brief appearance, he winds up being more interesting and appealing than he's been in most of the other times we've seen him. Devil Dinosaur himself is still a bit of a cypher, but I'm sure that'll change in future issues.
Itty Bitty Hellboy: The Search for the Were-Jaguar! #1
Art Baltazar and Franco bring Mike Mignola's pulp horror heroes back in kid-friendly form. Hellboy and Liz are on the way to the Island of Rogers, where all the Rogers the Homunculi live. They only have one pair of underwear, and the one who wears that single pair is the leader of the whole island. So this mission of mercy is to bring all of them underwear. Because, good grief, those homunculi need undies! Meanwhile, Rasputin and Karl are on their way to the island to photograph the mysterious were-jaguar, but they're soon captured by the Rogers. Hellboy and Liz meet up with Kate from the BPRD, and Lobster Johnson and Smitty go after the bad guys, with limited success. Will the Rogers ever get their undies? Will the were-jaguar make his appearance?
Verdict: Thumbs up. It's always wonderful to see Baltazar and Franco making great all-ages comics, and they really out-do themselves when it comes to these normally-dark characters.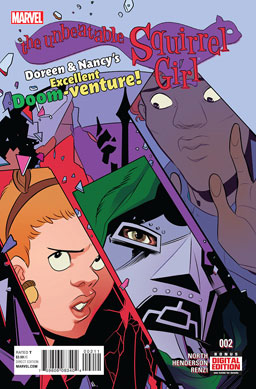 The Unbeatable Squirrel Girl #2
Some dire villain has used a convenient Time Platform to erase Squirrel Girl and Tippy-Toe from the current timeline while also sending them back in time to the 1960s! And the only person who can remember her at all is her roommate Nancy! Can Doreen and Tippy get accustomed to life in the '60s? Can they make contact with other time travelers? Can they figure out how to get back to the present? Will Nancy find out who's responsible for this villainy? Maybe someone who owns a Time Platform and hates Squirrel Girl and is on the cover of this comic anyway?
Verdict: Thumbs up. All the stuff we love about Squirrel Girl, just transported back to the '60s. There are lots of little moments to appreciate here — Doreen's newspaper ad trying to get in touch with other time travelers is really excellent, for example.