Moon Girl and Devil Dinosaur #3
Well, Lunella Lafayette has been captured by the modernized Killer Folk, but Devil Dinosaur still manages to rescue her — and soon enough, she also rescues herself and the Kree Omni-Wave Projector she's obsessed with. She ends up losing the device to one of the cavemen, and after that, her exploits being toted around by a huge T-rex are all over the news. We get to see Lunella's secret laboratory under the school — where she's also letting Devil Dinosaur hide out. Her school ends up catching fire, and she and D.D. help get everyone to safety, but next issue's big green guest-star probably isn't going to care about that.
Verdict: Thumbs up. It's such a grandly fun comic. It's got dinosaurs, punk rock cavemen, a gloriously weird kid heroine, and so much more. Please tell me you're reading this.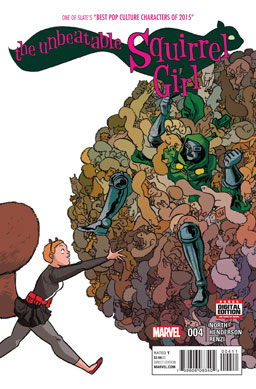 The Unbeatable Squirrel Girl #4
A bunch of computer science majors — including Squirrel Girl and Nancy Whitehead — are trapped in the '60s, while Dr. Doom prepares to begin conquering the future. While Doreen plans to sneak into Doom's hideout in Central Park and heist away his time machine, the rest of the students start building small EMP generators so they can shut down his electronics equipment. Unfortunately, Doom can't be defeated nearly so easily. Luckily, Squirrel Girl has a few surprise allies from the future who can help her out.
Verdict: Thumbs up. Another fun comic. We almost get Doreen to defuse yet another major supervillain by talking to him and making friends — and the guest star at the end is pretty amazing.
All-New All-Different Avengers #4
Edwin Jarvis is employed by the Avengers again — not that he's very happy about it. I don't know if he's just sick of butlering for superheroes or if he's peeved about the Avengers' new HQ — a run-down airfield in New Jersey. But the team gets called out to a mission before Jarvis can finish disapproving of the decor — a completely unexpected hurricane has hit Atlantic City. A metahuman called Cyclone is responsible, and dozens of people have been endangered. The new kids knock Cyclone down, but Vision puts him down for the count — in the most creepy way possible. And Thor lays a liplock on Captain America — and the reason why starts everyone wondering if she's actually a thunder god…
Verdict: Thumbs up. Very nice superhero action, plus fun dialogue and interactions.
Comments off