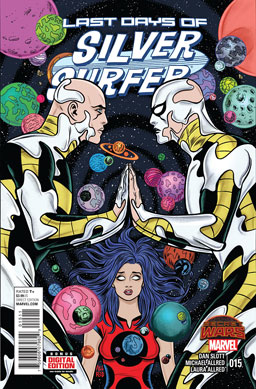 Silver Surfer #15
Together, the Silver Surfer and Dawn Greenwood have recreated the Earth and the universe — but the Surfer has left out stuff he didn't like, and Dawn's knowledge of Earth is really pretty limited, plus she's created an imitation Surfer to keep her company. And even worse, their assistants, Glorian and Zee, are actually villains in disguise. Glorian steals the power of the Shaper of Worlds, while Zee reveals himself as the Incredulous Zed. Can Dawn and the Surfer figure out a way to stop Glorian? How will they choose which universe survives the end of everything? What does the future hold for them?
Verdict: Thumbs up. Great to see an excellent end to this series (although I'm pretty sure it'll continue with yet another new #1 issue) by Dan Slott and Michael Allred. It's charming and funny and bold and exciting, and it's some of the grandest storytelling we've seen about the Silver Surfer.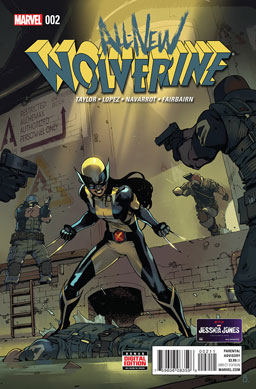 All-New Wolverine #2
Laura meets with the security officials at Alchemax Genetics, which created Laura's new clones. They want her help in tracking down her renegade sisters, who have powers different from her own. She initially agrees, but then meets one of her clones at her apartment, and she tells Laura that Alchemax just wants to kill them and harvest their DNA. Wolverine ends up joining their group (after they shoot her a bit) just before Alchemax's security forces invade their hideout. But do even four Wolverine clones stand a chance against a small army of mercenaries?
Verdict: Thumbs up. Good story, good art, several really nice character moments, very nice action sequences, too. Didn't enjoy this one quite as much as I did the first issue, but it was still good superhero fun.