I had a week or so off from reviewing anything, and I've got a mighty backlog of comics. So instead of struggling to review every single comic I got in the last two weeks, let's just look at the stuff that was most worthy of being looked at.
Patsy Walker, A.K.A. Hellcat! #1
Marvel's been producing a lot of fun comics lately, but even matched up against Squirrel Girl, Ms. Marvel, and Howard the Duck, this one was uncommonly fun. The story focuses on Patsy Walker, a.k.a. Hellcat — a character who migrated from romance comics in the 1940s-'60s to superhero books in the '70s. Most recently employed as an investigator by attorney Jennifer Walters, Patsy meets up with a fairly inept rookie telekinetic supervillain who she bonds with and actually reforms, thanks to their shared love of the theater musical "Wicked."
But Patsy's going through hard times — She-Hulk can't afford to keep her employed, and she's already been living in a storage room. Luckily, Ian, the reformed villain, offers to let her stay at his apartment, and while Ian visits the local gay bookstore, Patsy meets the proprietor, Tubs Hale, an old friend and supporting character in the Patsy Walker comics. She also learns that Hedy Wolfe, her frenemy from the comics, has gotten the rights to her comics and has started republishing them. All that, plus Patsy has an idea for a new business helping metahumans get power-appropriate jobs.
Verdict: Thumbs up. Like I said, it's a very fun comic, with wonderful writing by Kate Leth and wonderful art by Brittney L. Williams. It's a great story that combines Hellcat's superheroism with Patsy's comedy-romance roots. This one looks like it's going to be a lot of fun.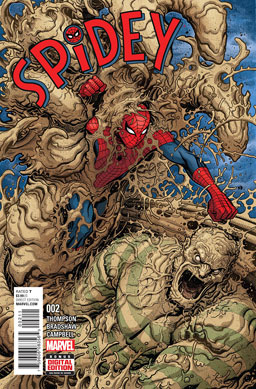 Spidey #2
Ladies and gentlemen, it's teenaged Spider-Man vs. the Sandman! Also teenaged Peter Parker vs. history class!
Verdict: Thumbs up. Holy banjos, for a comic I'd never even heard of the first time I saw it in the store, this one has zoomed up to the top ranks of my favorite books. I love just about everything about it, but definitely gotta give mad props to Nick Bradshaw for his jaw-droppingly amazing artwork. That cover is just plain spectacular.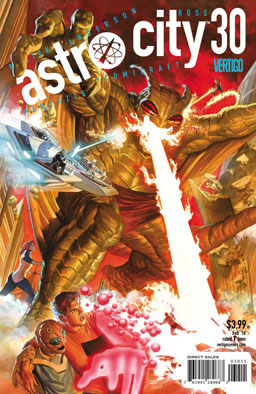 Astro City #30
The continuation of last month's adventure on the planet Zirros. Young Zozat is an alien from a species that often comes into conflict with the First Family. He's been raised to hate Earthlings, but when he encounters an injured member of the First Family, he inadvertantly reads his mind and gets the real story — the FF wasn't attacking for no reason — they were trying to retrieve a family member who'd been kidnapped by the Zirr. Meanwhile, his military-drafted sister is due to report for duty so she can become part of the Zirr's latest Ultimate Weapon — a giant monster composed of a huge number of Zirr soldiers. Will the First Family prevail? And how will Zozat be affected by his contact with Earthlings?
Verdict: Thumbs up. More great development of the Zirr cultural mindset, and Zozat is a fun character — I doubt we'll see him again, but it's nice to know that he's out there somewhere in the Astro City universe…
Moon Girl and Devil Dinosaur #2
Devil Dinosaur runs around New York pulling Lunella Lafayette along by her bookbag while the prehistoric Killer Folk get busy learning how to survive in the Big Apple. When they finally get Lunella separated from Devil Dinosaur, there's gonna be trouble.
Verdict: Thumbs up. Half the book is a wonderful chase scene involving a huge dinosaur, and the other half is the Killer Folk figuring out modern-day customs and language — and both parts of the story are plenty funny.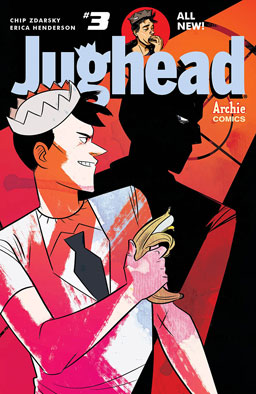 Jughead #3
Jughead has been expelled from school after Principal Stanger planted a knife in his backpack. Of course, everyone knows it's a frame-up, including Jug's parents, so his dad goes to the school and tells the principal, whoops, no, that was my knife that I left in my son's pack by mistake. Stanger's stuck — no one believes Jughead is violent, and his folks are sticking up for him, so Stanger can't leave him expelled. While Jughead is wallowing in misery at Pop's Diner, he has another one of his dreams and imagines himself to be a superspy uncovering the principal's latest evil plots — but do his dreams have some basis in reality?
Verdict: Thumbs up. It's not quite as inspired as the previous issues — though the badassery of Jughead's dad is really something to behold. And I'm kinda starting to suspect that Jughead's final theory on what's behind all the shenanigans of Principal Stanger and the new teachers may have some merit…