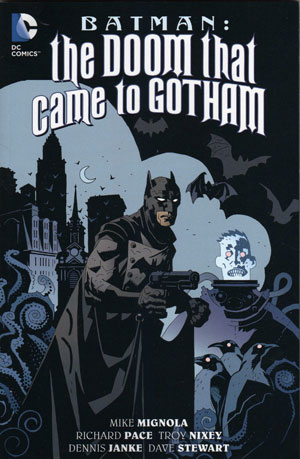 Batman: The Doom that Came to Gotham
This is normally something I'd prefer to review before Halloween. But DC, in its infinite anti-wisdom, chose to release this last week instead of in October, and I'd rather not wait 'til next Halloween to review this. Heck, it took us 15 years to even get this collection, so who knows if DC will leave it in print for the next ten months.
So the plotline? Bruce Wayne returns to Gotham City after years exploring the world and discovers a secret conspiracy stretching back years that threatens to destroy the city, if not the rest of the world. So far so typical? Sure, sure, almost every Bat-storyline reads something like that.
But in this case, everything's been crossed over with H.P. Lovecraft's Cthulhu Mythos. You'd think that'd be a strained concept, but it works out amazingly well.
Oswald Cobblepot is a mad professor, waddling naked around the Antarctic with a bunch of tumor-covered penguins. Mr. Freeze has more in common with the cold-dependent Dr. Munoz from Lovecraft's "Cool Air." Killer Croc is a mutated Deep One. Poison Ivy shows up as a seductive plant monster. Barbara Gordon is a literal Oracle, interacting with the spirit world to see the future. Ra's Al Ghul shares an origin with the Mad Arab Abdul Alhazred. We get appearances from Jim Gordon, Harvey Dent, Jason Blood, Oliver Queen, and more, all twisted around the axes of pulp fiction and cosmic horror.
Verdict: Thumbs up. If you're not a Lovecraft fan, you'll get a very good pulp horror story. If you are a Lovecraft fan, you'll get shivers of joy every few pages whenever a new permutation on HPL's creations appears. It's really pretty amazing how perfectly some of Batman's rogues gallery fit into Lovecraft's archetypes.
This was written by Mike Mignola and Richard Pace, and though the art is by Troy Nixey, it's clear that Mignola dropped some heavy hints about what the art should look like, 'cause it's very Mignolian (Mignolanian? I don't know.). Of course, Mignola specializes in pulp, especially pulp horror, and some of the images we get here are just gloriously creepy — Cobblepot wandering in the Antarctic, Wayne's ship frozen in the bay, Harvey Dent's transformation.
The only villains we don't get are the two we might most expect — there's no Joker, and there's no Cthulhu. Perhaps Mignola planned them for an eventual sequel?
Again, this series has been colossally rare for the past 15 years — the few copies for sale online would cost you about $50 for each of the three issues. But here it is, all collected into a single volume at last. If you let this one slip away from you this time, you don't need cosmic horrors to drive you mad.
No Amazon link this time — it's brand new, so check at your local comic shop.