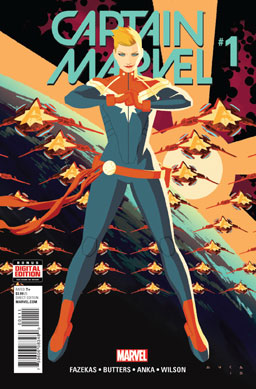 Captain Marvel #1
Another new #1 issue?! Marvel, I'ma whup you with a Chrysler fender.
Carol Danvers has a new gig — she's in charge of the Alpha Flight Space Station, which is supposed to be Earth's first defense from space-based threats. The name of the station is no coincidence — several members of her crew are members of Canada's once-foremost superhero team, including Puck, Aurora, and Sasquatch. Her second-in-command is Abigail Brand, formerly of S.W.O.R.D., and it looks like Brand is not happy having Carol in charge. Carol and the crew fend off a rogue asteroid, but a member of the science staff determines that the asteroid was deliberately targeted at the station — and an attacking spaceship crewed by dead aliens just opens up more questions.
Verdict: Thumbs up. Everything's pretty keen, but gotta give credit to the fantastic characterization. Puck is particularly fun, and I hope the rest of Alpha Flight get some great character moments, too.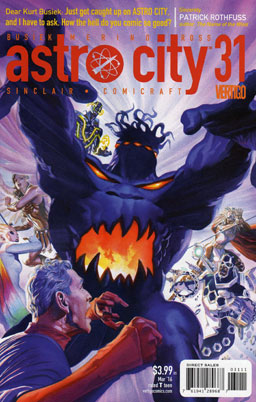 Astro City #31
The Living Nightmare returns, leaving havoc and terror in its wake. It's viewpoint is narrated by the scores of Astro City residents who had dreams about it last night as it rampaged through the city. We get its origin story — the ever-reliable scientific experiment flying out of control — and some of its history, including the period when it was controlled by a military pilot and served as a member of Honor Guard. Now in the present, it attacks Honor Guard again — but this time, it has a very surprising reaction.
Verdict: Thumbs up. I've always loved the Living Nightmare, so I was entirely jazzed that it'd be making a return, and even happier that it was going to be the focus character for this issue. But it's nothing compared the excitement I feel when I see that next issue will feature the return of one of my favorite characters, Steeljack.
Lumberjanes #22
Well, it turns out Seafarin' Karen is a werewolf. It doesn't let her get to the selkies who stole her ship, though. And speaking of shapeshifters, the Bear Woman is leading Molly and Ripley into the alt-dinosaur dimension. Back home, Jo, April, and Mal have a plan to get them and Karen across the water and onto the boat — but even when a plan works, it can still fail.
Verdict: Thumbs up. Another really fun issue, with great art and character work. Lots of clever problem-solving, too, and a decent cliffhanger.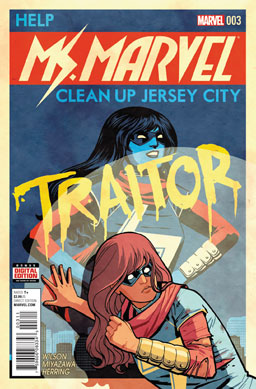 Ms. Marvel #3
Hope Yards Development is actually being run by HYDRA, and their nanites have added Bruno to the gentrified zombie hordes. Kamala isn't able to rescue him, but remembering he'd recently told her that his girlfriend Mike had the "key to his heart," she goes to see Mike and learns that she carries the passkey to the cloud account with all his research. They discover the antidote to the mind-control nanites, but can they save Jersey City from HYDRA before it's too late?
Verdict: Thumbs up. As always, a wonderful comic. Excellent characterization and art, and the action is even better than usual, with Kamala showing a lot more skill with her powers than she has before.