Okay, as long as I've got the time and the energy, I'm gonna keep reviewing some good horror. Today, let's take a look at one of my favorite books of the last few years, Wylding Hall by Elizabeth Hand.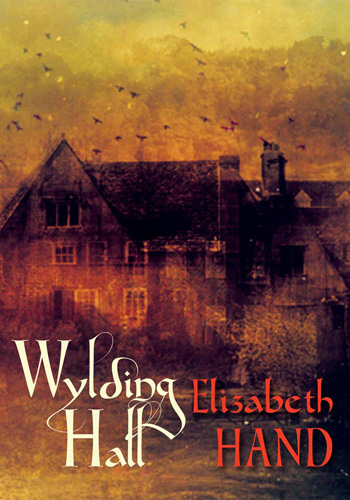 The story is told as an oral history of a 1970s British psychedelic folk band called Windhollow Faire. Their first album was an unexpected smash hit, but since then, tough times have followed the group. One of the group's singers recently committed suicide, and they are expected to release their sophomore album soon.
The band is a mix of personalities, all skilled musicians, and all very young. There's Ashton, a supremely skilled bassist; Jon, the drummer, still in the closet about his sexuality; Will, a multi-talented musician who plays rhythm guitar, fiddle, and mandolin; and Lesley, the group's sole American, a charismatic and hard-partying singer.
But the true virtuoso of the group is their lead singer and guitarist Julian Blake, a reclusive, eccentric genius.
They've traveled to an old run-down mansion called Wylding Hall for a little isolation, partly to rehearse, partly to mourn their deceased bandmate, partly to reconnect with each other musically, and partly to drink, get stoned, and party.
The summer is fun for everyone but… weird. Lots of strange happenings here and there. Nothing much worth mentioning, everyone thinks… but a lot of very unusual stuff going on.
And at the end of the summer, the band's manager comes for a visit and brings his new state-of-the-art portable recording studio, all stored in the back of his van. Everyone's been rehearsing for months, and they decide to take the new equipment for a test drive. The band sits down together in the courtyard of the mansion and plays a full album's worth of music, all live, all one take. When the last note is played, a local kid with a camera snaps a few pictures of the band.
The music is perfect. The photos are used to create the iconic album cover. The record, named "Wylding Hall," becomes an instant classic, acclaimed by critics, loved by fans… but quickly gone from the airwaves.
And Windhollow Faire never records another album. Because Julian Blake vanished into thin air the day after the album was recorded.
Verdict: Thumbs up. The most enthusiastic thumbs up I can give. This is a fantastic book, deliciously weird, and perfect for any reader who loves slow, subtle, creepy horror.
While much of the novella is focused on the band members, their interactions, and their recollections years after the fact, little tidbits of strangeness are scattered throughout the narrative. Wylding Hall itself is not just an old mansion but downright ancient, dating back to the 14th century and continuously built up and expanded over the centuries, so different wings of the house are from wildly different times and architectural styles — a Victorian wing, a Tudor wing, a Norman wing — and some even older…
The house is a maze of empty rooms, locked doors which are sometimes mysteriously unlocked, stairwells that lead nowhere, a room carpeted with thousands of dead, mutilated songbirds.
And every member of the band, at one point or another, suffers a small, minor injury that leaves behind a lasting, painful scar.
Even the band's visits outside the house turn out weird. The local pub, the Wren, is mostly normal — aside from a lot of weird photos of wren hunters on the walls. And unusual bird imagery can be found almost everywhere, both inside Wylding Hall and out.
And the photographs of the band taken by the local amateur photographer focus on a girl in white who no one noticed, no one knew, no one saw again. And she clearly held the deepest and darkest secrets of anyone else.
But all the strange happenings, all the unusual moments, they can all be explained away. Life is full of strange coincidences, little surprises, odd things that never make sense. Life is strange, but the strange is, once you look at it, perfectly ordinary.
Until that moment when it isn't ordinary at all. Until that moment when reality shifts just a bit too far out of alignment. Until that moment when you have to walk away from your friends and burn your photos because you can never look at each other again without remembering the fear.
Most people think of this book as a ghost story, a tale of a haunted house. To me, this could never be a mundane, commonplace haunting. This is a story of a group of friends accidentally straying into a liminal, otherworldly place with rules that cannot be understood, penalties that last a lifetime, and knowledge too terrible to believe. The master of Wylding Hall is cruel, capricious, beautiful, bizarre, monstrous, and all-powerful.
If you love rock and roll, if you love glorious, eerie weirdness, if you love beautifully told horror, you will want to pick this one up.