No, wait, that's not it.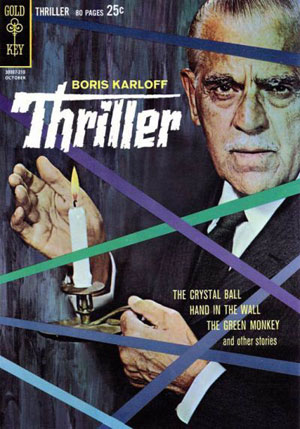 That's not it either.
Ah, there we go.
Well, gee, that was weird, wasn't it? Like pretty much everyone else around my age, I grew up listening to Michael Jackson. The "Thriller" album really is just about the most perfect pop album ever, after years of amazing pop-soul hits with the Jackson 5. And the guy made some of the best and most iconic music videos ever. I think the "Thriller" album my sister and I bought when we were kids is still around (It's stored at my parents' house, 'cause they've got a stereo cabinet that was built for storing vinyl albums. Come to think of it, they've got an actual fer-realz record player, and none of us kids do), not that we've listened to much of it in ages. I've got the song "Thriller" on my Halloween mix-tape, but that's about it.
Of course, I've avoided thinking about MJ in years — pretty much for the same reason I avoid thinking about Carrot Top, Andy Dick, Amy Winehouse, the Coreys, or anyone on reality TV — why waste precious brainspace on someone whose existence has become one long, painful slog of embarrassment?
So yeah, an awful way to go out, after a really awful decade of seemingly non-stop, self-inflicted humiliations. I'll try to dwell on the awesome stuff he did instead…
Comments off