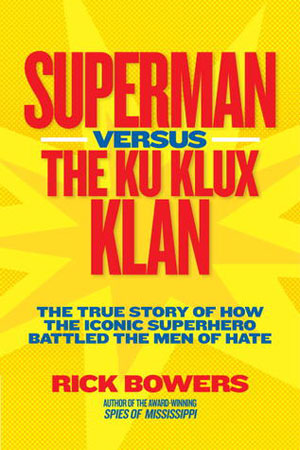 Superman versus the Ku Klux Klan by Rick Bowers
I picked up this book a few weeks back, and I wasn't expecting a lot — I know Scholastic Books publishes a lot of good stuff now, but when I grew up, it was strictly for kids' books — and not particularly good kids' books either. But I ended up liking what I read here.
This is basically a history book, with its initial focus on the history of Superman, from the early youths of Jerry Siegel and Joe Shuster, through their initial failures in the comics biz, to the unstoppable success of the Man of Steel, and clear through the way Siegel and Shuster got screwed out of their rights to the character. There's quite a lot of info about the years when "The Adventures of Superman" was one of the most successful programs on the radio, earning millions of dollars for his advertisers and enthralling legions of fans, both kids and adults.
The book's other focus is a fairly detailed and warts-and-all history of the Ku Klux Klan, neo-Nazi organizations, and hate groups in 19th and early 20th centuries. And a lot of this is stuff that was definitely never taught to me when I was in school, mainly because textbooks have always seemed to put more emphasis on teaching kids the national legends instead of the actual facts. There were times when the KKK and pro-Nazi groups had a lot of political power — and a lot of times when they were mostly devoted to fleecing their members of every dime they could get. And a lot of the time, there were a vast number of people, ranging from everyday citizens to federal officers to Southern newspaper editors, who hated the stuffing out of the Klan.
And it all comes together after World War II when the advertising execs for Kelloggs — who also managed the Superman radio show — decided they wanted to try pointing the power of Superman at the nation's social ills, particularly racism and intolerance. And what was interesting to me was that the radio producers didn't just bang out some scripts for Superman to fight some Nazis — they did intense research on how to educate children about racism, and they interviewed people about what the Klan was like behind the white hoods. One of their interviewees was a man named Stetson Kennedy, a publicity-hungry Southerner with a serious mad-on against the Klan — he heroically infiltrated the organization while simultaneously campaigning publicly against it.
And what they came up with were a couple of storyarcs that infuriated the KKK and the rest of the nation's racists. And that by itself is a pretty awesome victory.
Verdict: Thumbs up. It's well-written, it's detailed, it's entertaining, and it's filled with really interesting characters, including Siegel, Shuster, Stetson Kennedy, radio producer Robert Maxwell, education consultant Josette Frank, and even several of the Klan's leaders, who generally come across as either charismatic lunatics or craven greedheads.
There were a couple of things that I knew already, being a longtime comic fan — but it was still nice to see them pointed out in a book designed for younger readers who probably aren't as familiar with the history of Superman. The first was that in Superman's earliest appearances, he was a very, very political guy — and he definitely came across as a liberal, since most of his opponents were greedy politicians, crooks, and factory owners who were making things hard for the common man. The second reminder — there were a huge number of Jewish people who had a hand in Superman's success, including Siegel, Shuster, their publishers, and even their radio producer — no wonder they were so interested in putting the smackdown on the nation's hatemongers!
I was pretty impressed that this book didn't sugar-coat very much. These days, you read the newspapers and watch the news shows, and they're absolutely devoted to never saying whether any group is right or wrong. If they mention the Klan these days, they definitely never say that they're evil racist scumbags — that wouldn't be properly Broderian or moderate — and they might offend some lunatic on hate radio. Rick Bowers really doesn't do things that way — Superman's the good guy, the Klan are the bad guys, and that's really all there is to it. He also doesn't mince many words about how Siegel and Shuster got mistreated after DC got its claws on Superman, and that's pretty refreshing, too.
So there's Superman versus the Ku Klux Klan by Rick Bowers. I liked it — go pick it up.
Comments off