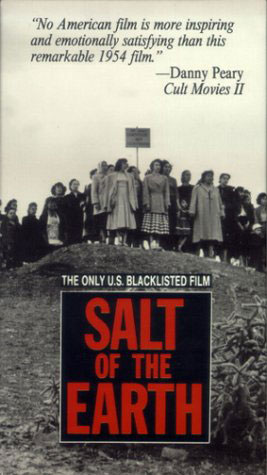 I really try not to blog about movies very often — the A-J has a perfectly awesome film blog already, and it ain't like William Kerns ever runs up and reviews comic books out from under me, right? But I'm gonna make an exception this time…
Any of y'all living in Lubbock — Texas Tech is going to be offering a free showing and panel discussion on a movie called "Salt of the Earth" this Wednesday, March 31, from 6-9 p.m. in Room 101 of the Mass Communications Building.
I've only seen this movie once, years ago, while taking a film class in college, and it's an absolutely phenomenal film. It was made in 1954, directed by Herbert J. Biberman and written by Michael Biberman and Michael Wilson. It starred a few professional actors, like Will Geer, and a bunch of non-professional actors — in other words, many of them had never acted before.
It was based on an actual strike against the Empire Zinc Mine in New Mexico and dealt with the prejudice against the Mexican-American workers, who unionized and went on strike to attain wage parity with Anglo workers in other mines and to be treated with dignity by the bosses. The film has a strong feminist theme, because the wives of the miners, against their husbands' wishes, play a pivotal role in the strike.
Quite a few members of the cast and crew, including the director, Will Geer, screenwriter Michael Wilson, and producer Paul Jarrico, were members of the Hollywood Ten, who had been blacklisted for refusing to answer questions before the House Un-American Activities Committee. After the movie was completed, the filmmakers had trouble finding anyone who would process their film, much less release it. The film was denounced as pro-Communist, and the movie was in theaters for a very short period, thanks to angry protestors and skittish theater owners. Lots of people still don't know the movie exists, which is too bad, 'cause it really is an excellent film.
I've got to assume all the hoopla about its pro-Communist leanings was just panicked hype, because from what I remember of it, the major themes were pro-union, pro-feminism, and pro-civil rights. It's really a pretty mellow film — quiet, subtle, not too flashy, heroes with feet of clay, and all that. The acting is really one of the most amazing things about the movie — there are so many non-professional actors — only five of the actors were pros, but if you don't know which ones they are, you'll never figure it out, 'cause everyone on the screen just comes across as a serious, 100% professional actors, even the people who were hired from the nearest town and never made a movie again.
It's an outstanding film, and it's free, fer cryin' out loud! If you're in Lubbock, go see it.
Comments off