Don't tell me you missed out on the Lubbock Sketch Club's 24-Hour Comics Jam?! Well, I did, too. It's okay — I can't draw, and I need my regular 15 straight hours of beauty rest every night. But not to worry, we got a quick report from organizer Brandon Adkins, along with some photos from his wife, Jennifer.
We all had a great time, William thinks it was our best Sketchclub event yet. I so appreciate our volunteers: Adrienne and Matt McKinney, Lindsay Gragowski, and my wife Jennifer especially.

The creators were: Scott and Logan Adair, Elias and Noah Sustaita, Lucas and Meranda Puryear, Cherri Marouf, Rachael Simmons, Timothy McEndarfer, Melissa Jones, Will Terrell, and Sarazann Greenwood.
I had a chance to flip through some of the 24-hour comics, and it's really amazing that they were able to create such wonderful comics in such a short space of time — and much of it sleep-deprived as well! Very talented artists we've got here, y'all.
And now for some pix! First, here's everyone at the beginning of the event. So bright-eyed and bushy-tailed!
Front row: Scott Adair, Logan Adair, Elias Sustaita, Noah Sustaita, Rachael Simmons.
Middle Row: Cherri Marouf, Melissa Jones, Sarazann Greenwoood, William Terrell, Virginia Pape.
Back Row: Brandon Adkins, Lucas Puryear, Timothy McEndarfer, Meranda Puryear.
And yes, there were kids there! They didn't stay the whole 24 hours, but they did finish their comics, so huzzah!
And here's everyone at the end! Some of them are still bright-eyed, but it looks like the bright eyes of raging, fatigue-hypercharged psychosis!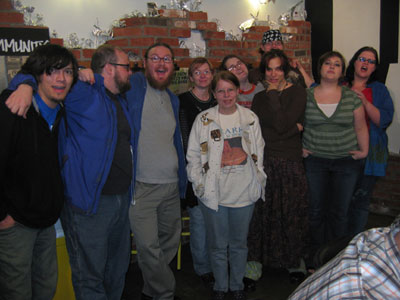 Tim McEndarfer, William Terrell, Brandon Adkins, Cherri Marouf, Melissa Jones, Meranda Puryear, Virginia Pape, Lucas Puryear, Rachael Simmons, Sarazann Greenwood.
And a few shots from during the event itself.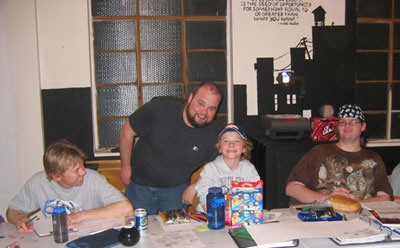 Scott Adair, William Terrell, Logan Adair, Lucas Puryear.
Lucas Puryear, Stephen Jones, Meranda Puryear, Cherri Marouf.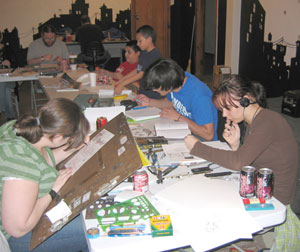 Many happy people! Drawing their hearts out!
Congratulations, everyone! Hope you all got caught back up on your sleep since then. 🙂