I picked up a couple of horror books that I've been thinking of as sure things — that nevertheless just didn't float my boat this time.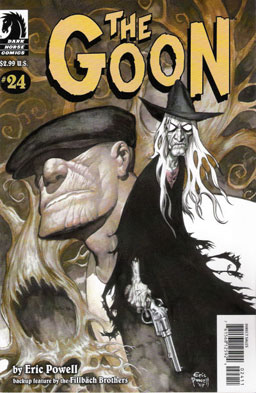 The Goon #24
There are two stories in this one — a spirit tells a hermit called the Buzzard how Lonely Street got to be so cursed and awful. Basically, he was a pioneer who was stranded in the woods with his family, his business partner, and a woman he lusted for. She manipulated him into becoming a cannibal and killing his family for her, then she left him alone to die. The second story is a silly little work about a gate to hell opening up, leading the Goon and Frankie on a short quest to shut it down.
Verdict: Thumbs down. I liked the first story, but the second just bored me.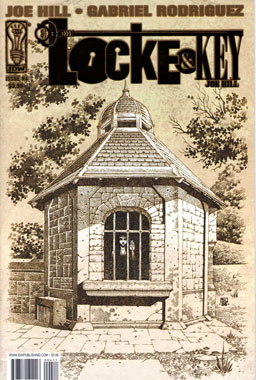 Locke and Key #4
First, lemme say that's a really pretty cover. It's got nice, shiny gold lettering that, unfortunately, doesn't scan very well.
The psychotic Sam Lesser has escaped from the insane asylum and is killing his way across the country to get to Tyler Locke and the rest of his family in the Keyhouse mansion in Lovecraft, Massachusetts. The best moment comes in a flashback when Sam watches a figure in a painting send him a message. Nice and creepy there, but the rest just didn't grab my interest.
Verdict: Thumbs down. Granted, at least part of my problem with this one is that I read the first issue, then missed the next two. Still, I can't really recommend it. Maybe it'll be better when they collect the whole thing into a trade paperback.
Sorry, y'all, nothing real goofy-fun this time.