Well, first, I had some news to tell y'all back on Wednesday, and the LubbockOnline blogs went kerplooey just in time to make my post extra difficult to find. So if you ain't heard my news yet, go read this.
Now that you're up to speed on what's been happening with me — yes, I'm safely moved in here, still working on unpacking my book boxes, sweating like a stuck pig every time I go outside, and starting my first day at the new job this morning. How do you tie a tie again? I can just use a square knot, right?
And now: Comics reviews.
Wednesday Comics #1
This is DC's new weekly series, and it looks pretty cool. When you unfold the comic-sized magazine, it's as large as a newspaper, and the stories they have here have some outstanding pedigrees. You've got stuff here like Metamorpho by Neil Gaiman and Michael Allred, Adam Strange by Paul Pope, Kamandi by Dave Gibbons and Ryan Sook, Supergirl by Jimmy Palmiotti and Amanda Conner, Hawkman by Kyle Baker, and Sgt. Rock by Adam Kubert and Joe Kubert. Let me repeat that last one for emphasis — the Kuberts on Sgt. Rock! That one little thing was what got me to commit to getting at least the first issue.
Verdict: Thumbs up. Too many stories to summarize here, but most of these are pretty good, and some of them are very, very good. But while this is a thumbs-up… I'm not planning on continuing to get the series. It's an expensive weekly series where each story gets just one page per week — I can't afford to shell out that kind of dough. I wish DC good luck with this, but I'm waiting for the eventual trade paperbacks for these.
Justice League: Cry for Justice #1
So here's James Robinson's big "Justice League" story. Hal Jordan makes a big pompous speech and "quits" the Justice League, along with Green Arrow, so they can go look for justice. Or something. Elsewhere, the Atoms — Ray Palmer and Ryan Choi — beat up Killer Moth and his gang in Albuquerque, Mikaal Tomas, former Starman and supporting cast member of Robinson's classic '90s "Starman" series, learns that his boyfriend has been murdered, and Congorilla, an old Silver Age character, a white hunter who could switch minds with a powerful gold-colored gorilla (Because shut up, that's why), must deal with the murders of his ape tribe, his human body, and even the African hero called Freedom Beast.
Verdict: A little from Column A, a little from Column B. I do have some very serious quibbles about a lot of this. I mean, isn't Killer Moth a giant insect monster these days? Would Ray Palmer torture someone the same way his ex-wife killed Sue Dibny? And pretty please, with sugar on top, could Hal Jordan kindly shaddap? I don't hate this as much as some people did – I am looking forward to seeing Robinson writing Mikaal Tomas again, and the Congorilla sequence really is outstanding. The bonus material in the back is also pretty nice. But definitely a very mixed bag…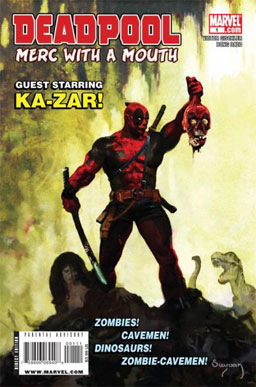 Deadpool: Merc with a Mouth #1
Marvel's lunatic mercenary gets a second ongoing series here, starting out by getting launched out of a space station by the mad scientists of A.I.M. in an unshielded and very hot escape pod and crashing down in the Savage Land. He's supposed to steal a package for A.I.M., but he doesn't know what it is. He meets up with Ka-Zar, who directs him to a site where the local cavemen are building a giant statue that looks exactly like him. He meets up with Dr. Betty Swanson, a dishy A.I.M. agent, and his attempts to impress her end with both of them being captured by the cavemen. That's when they discover what the package actually is — the head of Zombie Deadpool from the various "Marvel Zombies" series.
Verdict: Thumbs up. Not sure if Deadpool really needed two different series, but I'm down for anything that involves a crazy wisecracking assassin lugging a zombified alternate-version of his own head around as a sidekick.