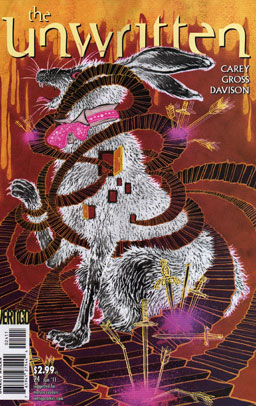 The Unwritten #24
We get another break from the main storyline to return to the intensely freaky tale of Pauly Bruckner, reluctant and foul-mouthed storybook rabbit. After escaping from a children's story set in idyllic Willowbank Wood, Pauly finds himself trapped on a surreal and deeply depressing endless staircase with a bunch of other storybook animals, all trying to climb to a possibly mythical Golden Door. Pauly eventually winds up taking over the group and leading it his own way, but is there really any way out for him?
Verdict: Thumbs up. So very, very weird. I wish Pauly Bruckner had his own series — he's just so wonderfully bizarre.
Hellboy: Buster Oakley Gets His Wish
So who is Buster Oakley? He's an awkward teenager dabbling with his friends in witchcraft and Satanism, hoping for amazing power. Hellboy is called out to his small area of Kansas after he and his friends disappear and after a bunch of cows disappear and later turn up mutilated. Hellboy is expecting to have to deal with Satanists… but he gets one heck of a surprise when he gets abducted by aliens. Of course, we can expect that Hellboy will come out of this okay, but can we say the same thing for Buster?
Verdict: Thumbs up. A nice, action-packed story with a giant dollop of humor on top. We don't often — or ever, really — see Hellboy fighting bug-eyed aliens from outer space, so this is one heck of a change of pace. And Kevin Nowlan's artwork is a ton of fun, too. If you haven't gotten this yet, go do so as fast as you can.
Batman and Robin #22
The White Knight intends to kill off as many relatives of Arkham inmates as he can, because he believes they're all tainted by their association with their crazy, criminal relatives. Batman and Robin save as many as possible, then follow the White Knight to Arkham Asylum itself, where he intends to drown all the inmates. We get the White Knight's origin, including his connection to Dr. Phosphorus, and we get a furious punch-a-thon to close out the storyarc.
Verdict: Thumbs up. Good action, very nice artwork, and a pretty good conclusion. My only quibble — we never learn exactly how Robin manages to save all the drowning inmates.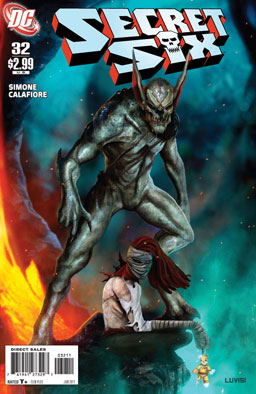 Secret Six #32
So the Secret Six have gone to Hell — this time, in a luxury elevator operated by Etrigan the Demon. And their primary foe is their former teammate Ragdoll, who has been made a Prince of Hell. And besides his army of demons backing him up, he's also got his old deceased friend Parademon on hand. Ragdoll worries that he's going sane, Catman goes looking for his father, Bane learns that he's likely hellbound, despite his attempts to live an honorable life, and Ragdoll reveals a surprising ally.
Verdict: Thumbs up. Good action, good characterization, and lots of twists and turns.
Today's Cool Links: