Twilight Guardian #4
The Guardian meets a man who claims to be her father and reveals that he's actually Steve Ditko — well, maybe not really Steve Ditko, but at least a paranoid comic book creator with an unhealthy obsession with Objectivism. After he finally leaves, she reads one of his comic books — "The Gulch," a black and white comic that reads like a parody of Ditko's maniacally Objectivist hero Mr. A. And after that, it's back to another quiet neighborhood patrol while — Wait a minute! There's a house on fire! And the only person who can help is the Twilight Guardian! Can she finally come through when the chips are down? Or is the Dusk Devil going to have the last laugh?
Verdict: Thumbs up. Holy cow — action! And it's pretty blasted good action, too. And that comes on top of what looked like just another weirdly off-kilter issue. In fact, all the weird stuff definitely reminds you that, despite the derring-do and whupassery that closed the series, the Guardian still has a lot of the same problems she had before — she's still off her meds, she's still got some severe issues with paranoia and delusion (surely I can't be blamed for wondering if her long-lost father was ever in her house at all), and she's still using her "crimefighting patrols" as an excuse for not dealing with the broken parts of her life. Is it a happy ending? Maybe it is… but like every other superhero comic, it's just a temporary triumph before more difficulties start up…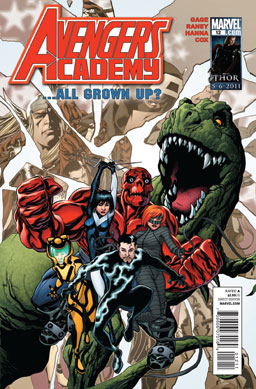 Avengers Academy #12
Korvac, the cosmic menace with the name like a vacuum cleaner, has defeated the Avengers — now it's all down to the students at Avengers Academy. But Korvac's ex-wife, Carina, has used her own powers to turn the kids into adults — she's put the kids' minds into aged-up bodies from other dimensions and given them the knowledge so they can use their new powers effectively. That's not entirely good news — for one thing, these are the best possible bodies from every possible future, so there's a good chance that they won't actually end up so fortunate in their own lives. So Veil still has to worry about dying, and Mettle and Hazmat know that they're almost certainly stuck with their unpleasant powers forever. But can even their expanded powers let them survive Korvac? And even if they do, what other changes are they going to have to deal with?
Verdict: Thumbs up. Good action, good personality work. Just about everyone gets socked with some big changes — some good, some bad. And the last page packs an emotional whallop you won't find in many comics out there today.
Green Lantern #65
Krona has reintroduced Parallax — and the yellow impurity — back into Oa's Central Power Battery, allowing him to take mental control of most of the Green Lanterns. Only Earth's Green Lanterns have been immune because they'd been influenced by Parallax in the past and were thus able to recognize him in time to get their rings off. Hal Jordan and Guy Gardner travel to Oa by spaceship and are able to locate Kyle Rayner and John Stewart before the mind-controlled Lanterns blow the ship out of the sky. Since they can't wear their regular power rings without risking being taken over, Jordan offers them the non-green power rings lost by the other ring bearers when they were absorbed into the Book of the Black.
Verdict: Thumbs down. There's really not much of anything happening in this one. If you're just desperate to see Hal wearing a yellow ring, Guy with a red ring, Kyle with a blue ring (which, remember, is only really good for overcharging green rings — nice choice, Kyle), or John dressed as an indigo hippie sniper… Well, that's still not enough reason to get this one, frankly.