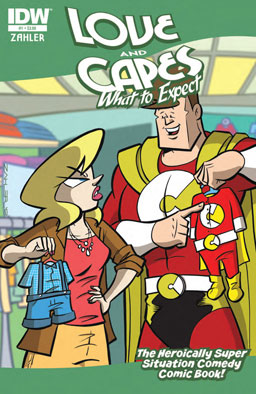 Love and Capes: What to Expect #1
Tom Zahler is back with a new mini about Abby Spencer, her husband Mark — better known to the world as the superhero Crusader — and their assorted friends and family. Abby's pregnant, which brings many changes to their lives. Not even considering the mundane concerns — no alcohol, no caffeine, getting good prenatal care, putting aside money for college — there are other things to worry about when the baby's father is a superhero — namely, what do you do about the danger of a super-baby kicking a hole in mama? In addition, we get to meet the second Doctor Karma, we learn if Mark can keep his big secret from Darkblade, and we get to sit in on the scene when Mark and Abby break the news to their parents.
Verdict: Thumbs up. Excellent humor, characterization, and dialogue. Really, I'm looking forward to this series so much, and I don't know what else I can say about it.
Avengers Academy #34
Apparently, this is going to be the final storyarc before the series cancellation, which is too danged bad.
In the aftermath of the closing of Avengers Academy, the students are mostly on their own, until teenaged CEO and all-around shady character Jeremy Briggs calls Hazmat and Mettle to let them know he's discovered a way to remove their powers and let them live normal lives. The rest of the students come along, mostly to make sure Jeremy isn't planning on doing something rotten to them. But as it turns out, Jeremy's "Clean Slate" formula returns Hazmat and Mettle to the forms they had before they got their powers. Unfortunately, he's decided he wants to dose everyone in the world with Clean Slate — he thinks superheroes and supervillains are a huge problem, and he wants to make sure that the only people with powers are himself and whoever he decides is suitably loyal to him. And they've all been breathing in the Clean Slate formula ever since they got there.
Verdict: Thumbs up. Excellent intensity and characterization. We always figured Jeremy was a bad guy, but it's nice to see that his level of villainy got cranked up extra high for this storyarc. I am disappointed, however, that the other teachers from the academy won't be around for this arc.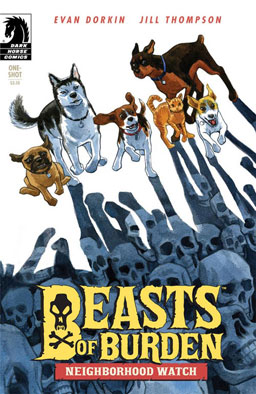 Beasts of Burden: Neighborhood Watch
A quick one-shot for fans of Evan Dorkin and Jill Thompson's great "Beasts of Burden" series. This collects the three stories that appeared a few months ago in "Dark Horse Presents" — so if you don't shell out the bucks for DHP, you can still read them. So we've got a light-hearted story with the gang forced to deal with a chicken-stealing goblin, and second one with the wise dog telling some puppies about a heroic dog who fought against evil, and final one, particularly creepy, about a lost herd of sheep.
Verdict: Thumbs up. Excellent stories, with the last one being my favorite because it really is wonderfully eerie. Wonderful art and wonderful empathetic storytelling. These stories aren't just about monsters and ghosts — they've got concerns about heroism, friendship, philosophy, and mortality.
Today's Cool Links: