Yeah, I'm super-late with reviews, and I just don't care. After cutting my pull-list in more than half, I ended up getting just four comics — the fewest I've picked up in months. And they were all pretty darn good. So, very quickly, let's look at what we got.
Axe Cop: President of the World #2
It would be impossible for me to describe what goes on here. But there are giant robots, a giant gorilla, an attempt to stab God in the heart with Seattle's Space Needle, a robot mustache, and a chee-rex, which is a cross between a cheetah and a T-rex.
Verdict: Thumbs up. Wonderfully mad, as expected. And by all means, let's take a moment to praise the artwork by Ethan Nicolle (That's the older brother in the team) — everything he does always looks awesome, and I can't imagine anyone else who could draw a chee-rex so completely perfectly.
The Goon #41
Most of the story focuses on the disgraced Zombie Priest, trying to build himself back up to a position of power by doing magic for others — always supposedly in their favor, but it always turns out bad for everyone. And the second part of the story features a deranged bog lurk with a mad-on for knocking the Goon's head off.
Verdict: Thumbs up. Nice to see the Zombie Priest returning to become a major threat. And the seriousness of the first story is nicely offset by the wonderful goofiness of the second one.
Captain Marvel #3
Carol Danvers is stuck on an island near Peru during World War II, defending a small all-female squad of Allied saboteurs against Japanese soldiers armed with Kree war machines. And while she can handle one of the alien mega-tanks, is she going to be able to survive a horde of them?
Verdict: Thumbs up. Good fun, nice art, and a few extras that help make it a really entertaining story.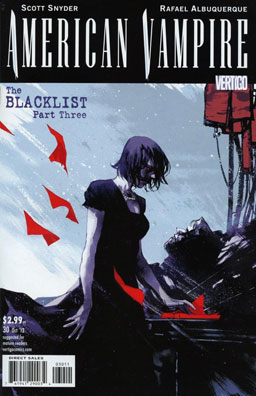 American Vampire #30
Henry Preston is still gravely injured after an attack by vampires, and his wife Pearl and Skinner Sweet hunt the vampires hiding out in Hollywood. They get ambushed by a bunch of vamps just as Henry starts to recover — and just as another terrible twist drives itself into Henry's and Pearl's lives.
Verdict: Thumbs up. The action is pretty good, but the emotional whammy of the story, from the beginning all the way to the end, is what really sells this one. It's an incredible piece of storytelling.
Today's Cool Links: