I'm still trying to clear space for more holiday gift recommendations, so I'm gonna see if I can clear all my regular comics reviews all at once. Strap on your seat belt, kids — we're gonna do a review marathon…
FF #15
The Future Foundation has everything planned out, and they're ready to take down Doctor Doom. They send in a bunch of robots controlled by the kids to distract Doom and his robots and to wreck up his Latverian castle, while the grownups and their allies infiltrate and sabotage Doom behind the scenes before finally moving in for the final confrontation. But will all their preparation allow them to succeed against Doom the Annihilating Conqueror?
Verdict: Thumbs up. Great action, great humor, intrigue, drama — and thanks to co-writer and scripter Lee Allred, the story is jam-packed with in-jokes geared directly to fans of the late, lamented City of Heroes, the best dang superhero MMO ever. I loved it, and I want a lot more of it, so I'm crossing my fingers that the series will continue, despite its predicted demise.
Red Sonja #6
Sonja was prepared to duel Dark Annisia to the death, but they've both been surprised by the re-emergence of the genocidal tyrant Bazrat, who reveals that the plague that afflicted Sonja and the kingdom wasn't actually a plague at all — it was all poison administered secretly to the populace. Can Sonja and Annisia stop fighting long enough to stop the madman?
Verdict: Thumbs up. Excellent action, drama, and art, and a genuinely smart story, all wrapped up in a nice chainmail bow.
Itty Bitty Hellboy #5
Abe's little sister Eve is having a birthday, and everyone is invited to the party! Hellboy, Liz, the Rogers, Baba (and her chicken-leg hut), Hecate, Lobster Johnson, Johann Kraus, and many more all show up. Presents are opened, seaweed cake is devoured, hot sauce is splashed on people, and Hellboy gets turned into a chicken. Just like every other day then, right?
Verdict: Thumbs up. Very funny, very cute — it's too bad this is the final issue, because Art Baltazar and Franco did a great job making Hellboy and his supporting cast look so adorable.
Young Avengers #14
Evil has been vanquished, and it's time for the after party. A wide selection of artists are on hand to help document the first half of the Young Avengers' last big party, along with most of the other young superheroes in the Marvel Universe. Wiccan and Hulkling reconcile for good, we learn more of Miss America's origin and about her secret connection to Wiccan, and Kate Bishop decides where she stands with Noh-Varr.
Verdict: Thumbs up. A bunch of excellently crafted stories about relationships — both romantic and familial — all backed up by a bunch of cool artists. I'm gonna miss this series, but it's nice to see they're going out pushing the envelope.
A Voice in the Dark #2
Zoey is worried that her urges to commit murder are going to get the better of her, so she starts up a campus talk-radio show, hoping she'll be able to quell her homicidal desires by basking in other people's darkness. And her very first caller is someone who's contemplating suicide. Can Zoey keep her from killing herself? Can her uncle and his fellow police officers find the girl in time?
Verdict: Thumbs up. Fantastic art and a great story that does not go where we expect it to go. Is there anything Zoey can do to keep from getting completely washed over in blood? Maybe not — and it'll be fun seeing how it all turns out for her…
Daredevil #34
Matt Murdock wants to strike a serious blow against the racist Sons of the Serpent — and he particularly wants to take their ally, the Jester, out of circulation. He's managed to obtain the Darkhold, an ancient mystical book that the Sons consider their Bible, and he's also gotten hold of a device that will allow him to broadcast to every TV, radio, and web browser in New York City. He enlists the aid of Kirsten McDuffie and then makes his broadcast, warning New Yorkers about the Sons and threatening to destroy the Darkhold if they don't turn over the Jester. Can the gamble pay off? Or will the Sons kill McDuffie as revenge?
Verdict: Thumbs up. It's an excellent story, with some real shining moments for McDuffie. The action is quite nice, and as always, Javier Rodriguez's artwork is phenomenally beautiful.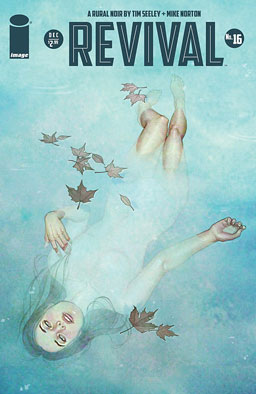 Revival #16
The authorities are now exterminating the local livestock, which has gotten a serious dose of whatever is causing the revivals, and Ramin and Sheriff Cypress are the targets of a low-level terrorist attack. Dana Cypress enlists her ex-husband Derrick and her sister Em — a secret Reviver — to help investigate whoever murdered Em. And Derrick runs into a mysteriously deformed arsonist. What the heck's going on?
Verdict: Thumbs up. The series is definitely trending away from horror right now and back toward noir. Not a bad thing at all — great characterization and art, and I'm still loving the story.
Pretty Deadly #3
Ya know, I'm not sure I could tell you the plot in a way that'll really make sense. But we learn more about Ginny and Fox and Death, how they got the way they are, and what may be coming up for them eventually.
Verdict: Thumbs up. I liked this issue a lot more. It made a lot more sense, I could keep track of who the characters were, and there were multiple really good, really powerful scenes. I hope they can keep the quality high on this one.
Today's Cool Links: