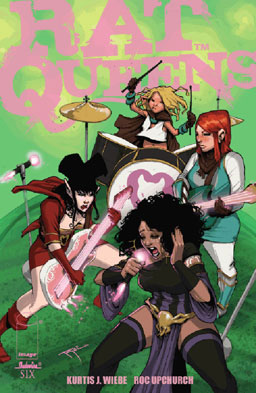 Rat Queens #6
I heard a lot of good stuff about this and finally picked up the first trade paperback last month. It was great fun, so I figured I'll pick it up ongoing from here on out.
Our setup here is a fantasy series starring a team of hard-partying mercenaries — Hannah, a cynical elven rockabilly spellcaster, Violet, a hipster dwarven fighter, Betty, a childlike drug-abusing halfling thief, and a human atheist cleric who gets her abilities from an eldritch abomination she refuses to worship. In their first storyarc, they beat up a bunch of monsters, a vast conspiracy tried to kill them, they abused a lot of substances, and they got busy with people they loved, or at least lusted after.
So, with this new issue, we're working on wrapping up old storylines and starting a few new ones. Hannah's on-again, off-again relationship with Sawyer, the city's leading law enforcement agent, gets more contentious, but probably gets wrapped up permanently. The Rat Queens fight off a bunch of mushroom people. Dee's husband makes his entirely unexpected return. And the Cult of N'Rygoth is coming back in a big way.
Verdict: Thumbs up. This series is crude and hilarious and action-packed and awesome. Go pick it up — the trade paperback is out, and this issue also makes a good jump-on point.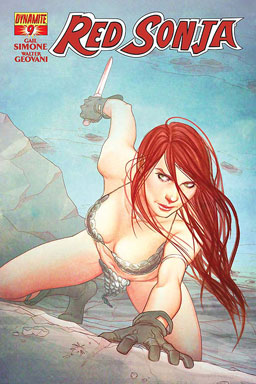 Red Sonja #9
Sonja is seeking the world's greatest artisans in order to get a dying tyrant to release thousands of slaves. Her quest this time sends her to collect Aneva, the world's greatest courtesan — but she's hampered by the fact that she has no money to get into Aneva's presence, and by the fact that it's been a long time since Sonja enjoyed any carnal pleasures of her own, and she's a bit… distracted. She offers Aneva the tyrant's promised gold, but Aneva is more interested in staying where she is to start a courtesan's guild and to keep her cruel master Captain Ferox from torturing her friends. Can Sonja convince Aneva to accompany her? Can the two women learn anything about each other's lives?
Verdict: Thumbs up. Great art and story, and a rare chance to see Sonja's rarely displayed ability to rock a gorgeous dress while still kicking ass.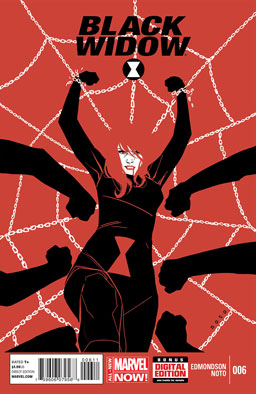 Black Widow #6
Natasha has been captured aboard the yacht of an old enemy called Damon Dran, the Indestructible Man, who doesn't seem to be as unstoppable as he used to be. She manages to escape the armed thugs guarding her, only to run into the monk assassin she thought she'd killed, now outfitted in built-in metal armor to make him even more difficult to harm than he'd been before. Even then, Dran is captured easily — but what if the conspiracy Natasha's fighting goes even deeper? Is there anyone she's able to trust?
Verdict: Thumbs up, but it's another near thing. The art is exceptionally nice, but the story still feels a bit light and inconsequential.