Clive Barker's Nightbreed #2
We continue telling the stories of Peloquin, as he must fight his way through a bunch of slaveowners and their slaves, all convinced that he's the Devil, and of Shuna Sassi, whose human lover attacks her in a fit of jealousy. Not a good thing to do to a human porcupine.
Verdict: Thumbs up. It's a good story and nice art — but it's not the best dang thing in the world, either. I'd like to see this one up its game and prove it's as awesome as the movie it was inspired by.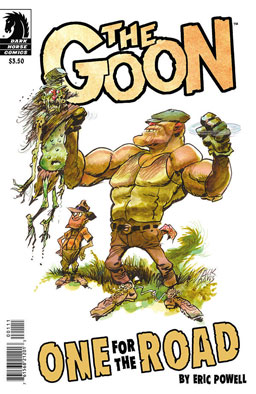 The Goon: One for the Road
The Goon and Franky run across a sailor on leave who's lost his buddy — and if he can't find him and get him back to the boat, they'll both be AWOL. The three set off on an epic bar crawl to find the guy, and in addition to drinking way too many beers, they also run across a bunch of witches and a bad little boy, a squad of shellshocked Marines, infuriated cowboys, a bar full of movie stars, and a giant man-eating gorilla. But are they ever going to find the missing sailor?
Verdict: Thumbs up. If you love mayhem and violence and silliness and lunacy delivered the way Eric Powell does it best, you'll want to get this one. Goon comics have been rare as hen's teeth lately, so enjoy this bit of madness while it's here.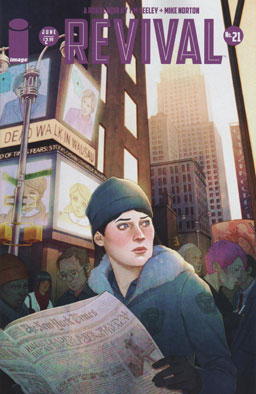 Revival #21
Officer Dana Cypress has left Wisconsin for New York to investigate the possibility that a Reviver has broken the quarantine to head for the Big Apple. What she finds is that the rest of the world is obsessed with the mystery of what happened in Wassau — along with a dismembered murder victim with a gory secret. Meanwhile, her sister Em is hanging out with a fellow Reviver named Rhodey who's decided that the way to fix her slow deterioration is to get her to embrace her undead immortality. And teabagging wannabe-terrorist Edmond Holt is trying to get his hands on Cooper, Dana's son and the sheriff's grandson, for nefarious purposes.
Verdict: Thumbs up. Lots of smaller storylines running through this, and they're all being advanced suitably and interestingly. That doesn't sound like much, but moving multiple storylines forward in only a few short pages seems to be a dying art form in some corners of the comics world.
Today's Cool Links: