The Goon: Once Upon a Hard Time #2
Even for a comic that tends to produce uncommonly interesting stories, this issue probably tops the list. The Goon has learned that a rival mobster has sent a couple mooks to kill him, so he heads for the local bus station so he'll be there to wipe 'em out. But he's got a few hours to kill, so he buys a paperback copy of "The Island of Dr. Moreau" by H.G. Wells to read while he waits. And most of the rest of this issue is Eric Powell's comic adaptation of the classic sci-fi novel. So is the Goon more animal than man now? Will he have the chance to walk back to his own humanity?
Verdict: Thumbs up. It's an amazingly cool storytelling choice, and I get the impression that Powell has always wanted to adapt "The Island of Dr. Moreau." You should go pick it up for that reason alone.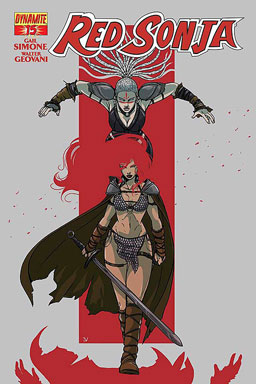 Red Sonja #15
Sonja has returned to the village where she was cursed to never be able to forgive anyone, and she's figured out a unique method to make sure her supernatural vengefulness doesn't harm anyone — she's mutilated her hands into bloody, shattered wrecks so that she can no longer hold a sword. Unfortunately, just as she finally breaks the curse, the wizard who's been stalking her finally catches up to her. Is there any way for her to stop the sorcerer and his horde of monstrous snakes?
Verdict: Thumbs up. Beautiful artwork and beautiful storytelling. The action and tension are excellent, too. It's the next to the last issue of Gail Simone's epic run on this series, and I'm dying to find out how she's going to end it.
Today's Cool Links: