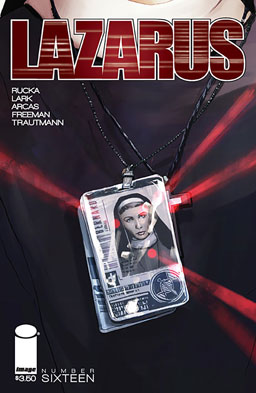 Lazarus #16
This issue follows Sister Bernard, a nun and doctor — and spy for the Carlyle family. And she's being sent into territory governed by the noxious dictator Jakob Hock, on an errand to find and retrieve one person, Victoria Aguillar, who has important information. When she finally meets up with her, Aguillar reveals that Dr. Hock has re-engineered a catastrophic plague to make it even more deadly — and he's infected Aguillar with it. But when Hock's troops show up, will Sister Bernard be able to get her charge to safety — or is there anywhere safe for either of them?
Verdict: Thumbs up. Excellent story, with a ton of unusual graphics — lots of digital, computer-based imagery, to illustrate the espionage work that Sister Bernard is doing. The cliffhanger is excellent, too.
Revival #29
Rotten teabagging terrorist-wannabe Edmund Holt finally quits being a wannabe, and his scheme involves the mayor, the mayor's wife, and a bomb. And demon-obsessed Blaine finally loses his mind and goes after May Tao.
Verdict: Thumbs up. Lots and lots of stuff going on in this story, and I can't tell it all, 'cause it's all go good. Y'all been reading this series, right? 'Cause it's too good for you to miss out on.
Today's Cool Links: