Revival #30
Things have gone nuts Wausau, Wisconsin. Edmund Holt, a wingnut terrorist wannabe, got the reviver wife of the town mayor to sew a bomb inside her and set it off during a press conference, killing several people, including the mayor. Now a military governor, General Louise Cale, has been assigned to the town. Meanwhile, Blaine Abel, nutbag exorcist wannabe, killed reporter May Tao because he thought she was allied with the Devil — Blaine has now joined up with a bunch of religious hipster survivalists called the Hunters of the Beast as they hide in the woods and plan various attacks. Most of the revivers are being held prisoner in a military facility. The Cypress family is trying to recover from the various traumas, while the government prepares a raid on the Hunters of the Beast.
Verdict: Thumbs up. Nice story, and a nice summary of the new status quo in Wausau. As always, things will get worse before they get better (if they ever get better — this is a "rural noir," after all, and things don't often improve in noir), and it's very unlikely they'll introduce the Hunters and then squash them in the next issue…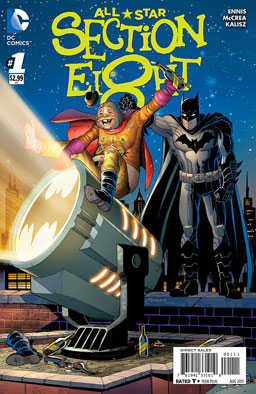 All Star Section Eight #1
Many moons ago, in the storied pages of "Hitman," Garth Ennis and John McCrea created Section Eight, a superteam of crazy people — Sixpack, the Defenestrator, Jean de Baton, Flemgem, Bueno Excellente, Friendly Fire, Shakes, and Dogwelder. But most of them died years ago, leaving Sixpack and Bueno Excellente as the lone survivors. Sixpack has built a career as a successful art critic, but when he finally falls off the wagon, he finds himself back in Noonan's Bar, convinced there's a new threat on the horizon and trying to put the old team back together. He recruits a new batch of no-hopers — Powertool, the Grapplah!, Guts, a new Dogwelder, and demonic bartender Baytor. But that's just seven — who can he get for the eighth member? Well, hey, they're in Gotham — why not see if Batman will join up?
Verdict: Thumbs up. This is pretty glorious superhero parody. Sixpack and Section Eight are plenty fun, and I'm really glad that we'll get to see more of Baytor, who is one of my favorite gag characters ever. McCrea's Batman-through-the-Ages poses are outstanding, and Ennis's skewering of the Dark Knight is great, too.
Lazarus #17
The new war between the Families Carlyle and Hock isn't going well for the Carlyles. It doesn't help that Malcolm Carlyle has been poisoned, and his son Stephen is not entirely up to the job yet. So Forever is going to have to lead a small squad of soldiers into enemy territory to help take some of their territory back from Hock.
Verdict: Thumbs up. Nice combination of action and intrigue — for once, someone other than Forever getting into the action.
Today's Cool Links: