I've got some more gift recommendations for you. Not quite a comics recommendation this time — you may remember a few weeks back when I pointed out Ed Emberley's drawing books for younger artists-to-be? Well, think of this as some art books for slightly older kids — Jay Stephens' drawing books.
Stephens put these out a few years back — titled Heroes!, Monsters!, and Robots! Each one is exactly what it sounds like — instructions and inspirations for drawing superheroes, monsters, and robots in Jay Stephens' signature style.
So who's Jay Stephens anyway? If y'all are at all familiar with Cartoon Network, you may have seen a show he did there called "The Secret Saturdays," with a strong retro-heroic feel to it and a very obvious influence from the classic "Jonny Quest" cartoons. The art here has a lot of that same style to it. It's not especially realistic art, but it's a lot of fun to look at.
There are a few step-by-step guides to drawing some specific characters, but the most of these books are devoted to showing young artists how to draw the elements of their characters — a page focusing on how to draw a head, then how to draw different kinds of eyes, noses, mouths, ears, how to draw legs and arms, etc.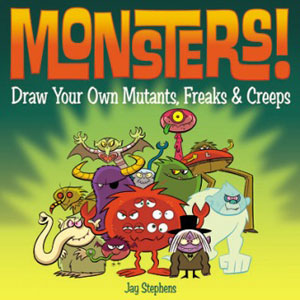 And throughout all this, Stephens keeps asking his young readers "What kind of nose will your hero have?"  "How will your robot get around?"  "Will your monster have fingers or claws or tentacles or something else?" In other words, he gets kids to use their imaginations, and to try to think of ways to create their own characters, not just copy the ones in the books.
When it comes down to specifics, Stephens demonstrates how he draws individual characters, always describing what he's doing with simple shapes — a fist made of rectangles, hair made of zigzags, chainmail armor made of dozens of tiny circles. It's a nice method to encourage budding artists — it shows them that drawing may look complicated, but it can be boiled down to making simple shapes that fit together in interesting ways.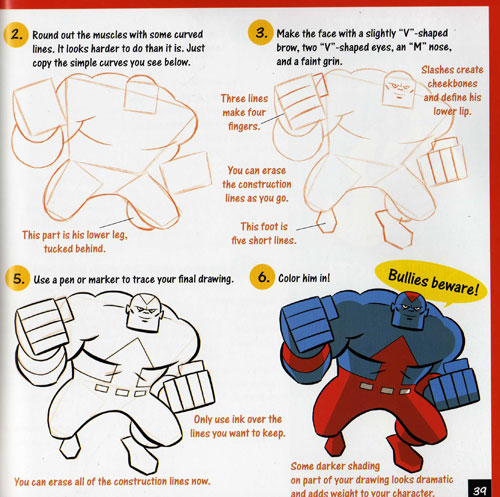 Having said that, it may not be a good book for complete beginners — Stephens draws with the expectation that the kids reading along have at least a basic understanding of things like perspective, shading, coloring, and general anatomy. That can be pretty difficult for amateurs and even some intermediate artists, but this book does give them many of the tools they may need — as long as they've got some other art books to flesh out those concepts and techniques.
Got a kid on your shopping list who enjoys art, superheroes, monsters, and robots? I know, I know, what kid doesn't, right? Well, get these books for them — it'll give 'em a few drawing tips and give 'em a lot of exercise of their imaginations. Robots! is only available in hardcover and runs about $12 or less. Heroes! and Monsters! are both in softcover, and they've got a price tag of only six bucks.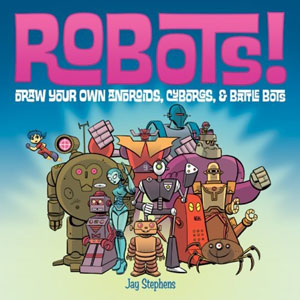 Heroes!, Monsters!, and Robots! by Jay Stephens. Go pick 'em up.
EDIT: Wanna see more of Stephens' work? Check out "Oh, Brother!", the comic he does with Bob Weber, Jr. It's full of more great examples of Stephens' art in a traditional gag comic strip. Great stuff…
Comments off