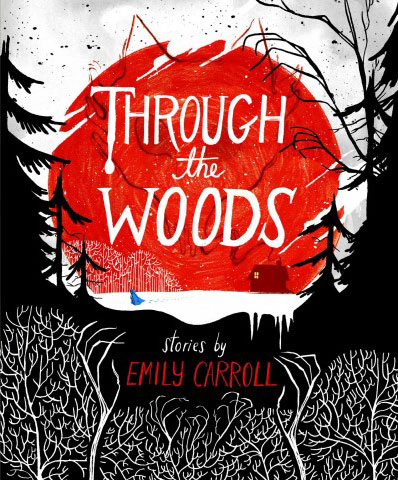 Through the Woods
There are so many different ways to create horror, especially in comics. If you're Richard Corben, you go with surreality, cheesecake, and backwoods decadence. If you're Bernie Wrightson, you go with lifelike detail and emotion. If you're Mike Mignola, you go with thick lines and hints of antiquity. If you're Junji Ito, you go with body horror, spirals, and fish.
If you're Emily Carroll, you go with subtly complex simplicity, negative space, vivid colors, and fairy tales.
Many of y'all are already familiar with Emily Carroll, whose webcomics can be enjoyed on her website. She published a collection of stories just last year, only one of which — the masterful and near-legendary "His Face All Red" — is available on her website. The rest are gloriously new and wonderfully diabolical.
We get "Our Neighbor's House," in which three young girls are left alone in a winter storm — until they encounter a strange man with a broad-brimmed hat and a full-face smile. We get "A Lady's Hands Are Cold," a ghostly variant of the Bluebeard legend. We get "My Friend Janna," in which two friends dabble in spiritualism and discover something spectral and predatory. And we get "The Nesting Place," in which a girl visits her brother and discovers that his wife is hiding a gruesome secret underneath her skin.
Verdict: Thumbs up. Carroll does an amazing job of creating stories that seem both timeless and ancient, and utterly new and shocking. I think my favorite story in this one is the first — "Our Neighbor's House" — because it never shows you anything horrific and lets your imagination do all the heavy lifting — which I still think is Carroll's greatest strength.
But that doesn't mean the others aren't all fantastic, too. "My Friend Janna" brings us subtle terrors we're not even sure if we can see clearly and definitely can't possibly understand. Is Janna being haunted at all? What's the significance of the pulse inside the ghost? And "A Lady's Hands Are Cold" is more gruesome but also a slower burn. The song sung throughout helps a story already rooted in the past feel even older, like it's something pulled up from antiquity.
"The Nesting Place" is the tale that seems to break most of the rules one expects from Carroll's work — it's much more modern, there's more dialogue, less omniscient narration, and the horrors are downright gory. But I loved the hell out of this one, too. The surreal shapeshifting monster in this story has horribly human motivations, and that makes the story more powerful and more frightening.
You love horror, don't you? You love beautiful artwork and splended little stories and fears both subtle and overt, both quiet and shrieking, both chilling and gore-caked? Go pick this one up.
Comments off