Booster Gold #11
The timeline has gotten screwed up again. Because of a criminal time-traveler's interference during a museum robbery by Killer Moth, Batman, Robin, and Batgirl have ceased to exist. Booster, Skeets, Rip Hunter, and Booster's formerly-dead-but-now-alive twin sister Goldstar are on the case, and decide that what caused the chronal chaos was Batman capturing Killer Moth. So to make sure Moth gets away, Booster mugs him, dresses up in his costume, stages the heist, and knocks out the crimefighters. Unfortunately, Booster's stunt has made Killer Moth look like an unstoppable criminal, which has pushed him into becoming a Batman-like defender of Gotham City's underworld. How to fix things this time? Booster is going to have to masquerade as the Dark Knight himself. But that's easier said than done…
Verdict: Thumbs up. Old-school Bat-folks! And Skeets gets to run around with little-bitty moth wings while Booster's disguised as Killer Moth, so extra points for Teh Cute.
Number of the Beast #8
I missed the final issue of this miniseries a while back, but finally got it picked up. There's a lot less emphasis on the Paladins and a lot more focus on the heroes of the Wildstorm Universe, including the Authority, Majestic, StormWatch, and the WildC.A.T.S. trying to fight off the army of clones of the High, the mega-powerful anti-hero. They manage to put a few of the clones down and lose a few heroes (most of them being stray members of the Paladins). In the end, the High clones fly up into the upper atmosphere and blow themselves up like bipedal nukes. Crisis over? Actually, no. A hundred nukes blowing up in the atmosphere? Now the planet's off its axis, the moon has been destroyed, and 90% of Earth's population is dead. Wow, way to completely shake up the Etch-a-Sketch, Wildstorm…
Verdict: I'm a bit up in the air about this one. I respect any comic company willing to change their universe so drastically, but Wildstorm was already pretty dark and morally-conflicted — how much darker can they make things? And it's really hard for me to believe that the Authority, who've already saved the planet from gods, would manage to get skunked so severely by a bunch of doofy clones. And heck, I wish we'd seen some more of the Paladins. I liked those dudes…
Captain America #41
The Red Skull's schemes march on. The fake Captain America is recaptured, and plans are made to assassinate a few presidential candidates. But the evil Dr. Faustus has decided to betray the Skull, help Sharon Carter escape, and lead the forces of S.H.I.E.L.D. to the Skull's doorstep. And of course, Cap, the Falcon, the Black Widow, and more are on hand to help out.
Verdict: I gotta give this a thumbs down. It's not that things are particularly convoluted. It's more that Captain America doesn't really do very much here. He gets a couple of great moments at the end of the issue, but by and large, it's the bad guys' scheming and betrayals that move all the action. Cap generally watches from the sidelines. And I'm really getting a mite tired of this unending storyline by now.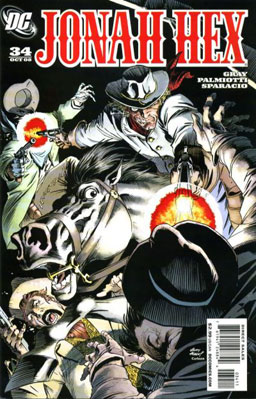 Jonah Hex #34
Hex has decided to reform. He buries his guns and his old Confederate uniform, builds a house, and avoid people so he won't get in any trouble on their behalf. And naturally, a bunch of toughs ride into the nearby town to raise some hell. A pretty shopkeeper's daughter tries to enlist Hex's aid by bringing him pie (Amazingly, he discards the pie. Who can resist pie?!) and having sex with him (He discards the girl afterwards, too. The cad!). But Hex is a hard-hearted cuss, and he stays out of trouble up until he finds out that the girl and her family have been killed by the crooks. After that, there's nothing left but shooting a few hellraising mooks in the face.
Verdict: Thumbs down. I like the concept of Hex trying to lie low, stay out of trouble, and lead a life without gunslinging, but the dialogue just plain cheesed me off. They made Jonah Hex talkative and poetic and downright dadgummed loquacious. People, people, people, you do not take a grim, taciturn gunslinger who's basically modeled on Clint Eastwood's Man with No Name and turn him into a chatterbox. You just do not do that.
Comments off