Well, everyone else is doing end-of-year best-of lists, so I reckon I will, too. What's Newsweek magazine got that I ain't got, right? I mean, the way magazine readership has been falling, there's a decent chance that I've got more readers now. ZING! Oh, Newsweek, you know I kid 'cause I love.
Anyway, this is not a list of the very best of all comics. I haven't read all comics. I haven't even gotten close. This is my list of the comics I read that I enjoyed the most.
Also, I don't think I could manage to say which of these is the best — so I'd rather just arrange them in alphabetical order.
So here we go: The 16 comics I enjoyed reading the most in 2011.
American Vampire
This series by Scott Snyder is still carrying the torch for serious vampiric horror with great characterization, boundless imagination, and really awesome bloodsuckers.
Atomic Robo
One of the best comics out there — this one packs in action, humor, and mindblowing science into something that is always fun. Fun cameos by the famous and infamous, and an incredibly cool lead character.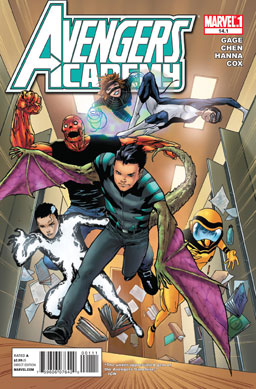 Avengers Academy
Thank goodness someone still remembers how to do a good teen comic. You can do teen angst without it turning into a bloodbath. This series combines a great concept with outstanding characterization.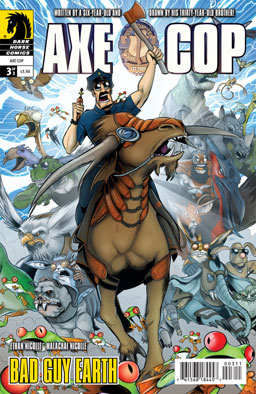 Axe Cop: Bad Guy Earth
The most audaciously imaginative comic of the year, thanks to its seven-year-old writer. Loved the drama, loved the action, and laughed out loud at the humor.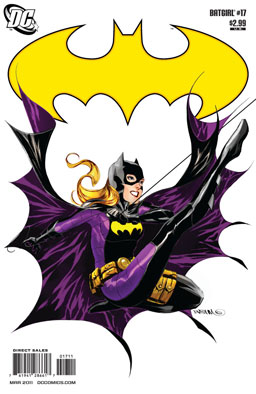 Batgirl (pre-Reboot)
Stephanie Brown's tenure as Batgirl was marked by great writing, excellent action, and a very strong sense of humor. Stephanie is still MIA in the new DC, unfortunately.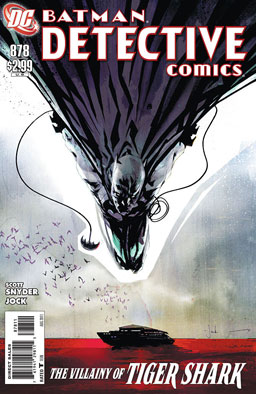 Batman comics by Scott Snyder
Whether it was on Detective Comics prior to the Reboot or on Batman afterwards, Snyder wrote some of the most engrossing tales of the Dark Knight.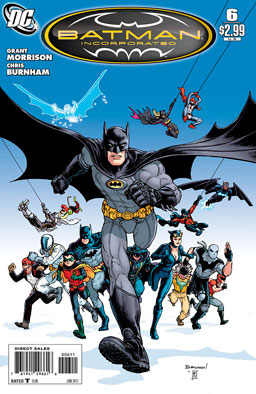 Batman Inc.
Reading Grant Morrison's Batman has been a treat for years, and it was fun to watch him create the new Batman megacorp.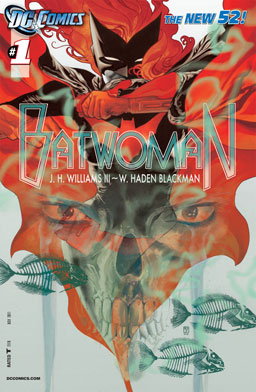 Batwoman
J.H. Williams III's writing has been fine, but his art is simply breathtaking. This was absolutely the most beautiful comic book on the stands in 2011.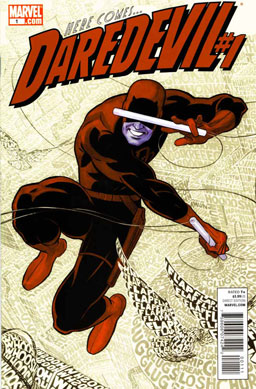 Daredevil
Daredevil? I've never cared for Daredevil in my life. But this one is a blast. Writing and art are incredible. Humor, action, characterization — and again, fun. You can make a pretty good comic if you make it fun, ya know?
Dungeons & Dragons
Did anyone ever expect a D&D comic to be this good? Excellent dialogue, humor, action, drama, suspense — all while doing a pretty good job spotlighting the RPG it's based on. Best fantasy comic of the year, right here.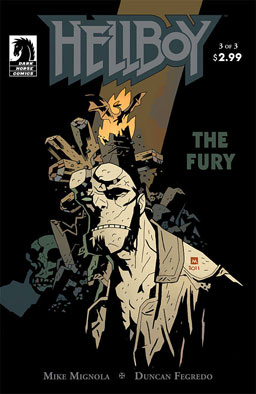 Hellboy: The Fury
Mike Mignola has enjoyed another excellent year of comics, and I could've put almost any of his B.P.R.D. comics in here, but this one — Hellboy's last hurrah — was really something special.
Knight and Squire
Paul Cornell's miniseries focusing on London's version of Batman and Robin was fun storytelling, along with a quick course in British pop culture. Excellent characters and adventures, and a wonderfully created setting.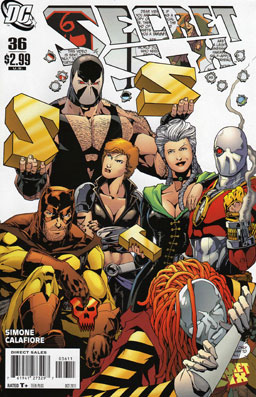 Secret Six
Gail Simone's awesomely epic series of supervillains occasionally doing the right thing had some of the funniest, saddest, most dramatic, most astounding moments in the comics world. Absolutely grand characters, too. Losing this series was one of DC's biggest mistakes of the Reboot.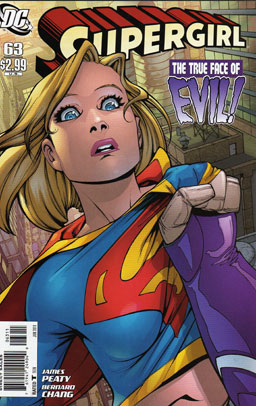 Supergirl (pre-Reboot)
After years of being the DC Universe's version of the useless mallrat in a belly shirt, several creators finally realized they could make the character awesome by treating her more like a real person instead of an MTV stereotype. Yes, DC, character is everything!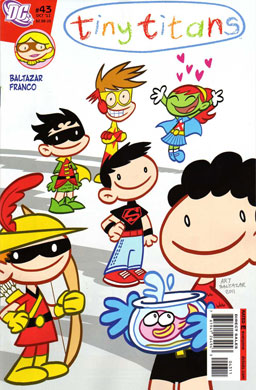 Tiny Titans
The best all-ages comic on the market. Still can't believe they're going to let something this awesome go.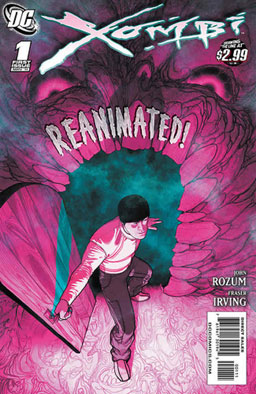 Xombi
One of the weirdest comics to come out this year. There was usually at least one really mind-blowingly weird thing in every single issue. Beautiful art, too, along with great writing and dialogue. It was a joy to read.
And one more little category? How 'bout Publisher of the Year? DC and Marvel are out — they've spent the past 12 months pandering to the worst in comics, cancelling great series, and randomly insulting their readers. IDW, Dark Horse, Red 5, Image, all the other independents came close, because they're doing more of what good comics publishers should be doing — gunning for new readers, pushing the artistic and storytelling envelopes, making excellent comics.
But I think the Publisher of the Year is Archie Comics. What? But I don't read any Archies! But Archie is doing even more than the other independents to push the creative and social envelope. They've gotten lots of publicity with their Archie marries Betty/Veronica comics, but they also had a great crossover with the Tiny Titans. And who would have ever imagined that staid, conservative Archie Comics would end up being the most progressive comics publisher — whitebread Archie Andrews has recently dated Valerie Brown, the African-American bass player from Josie and the Pussycats, and Kevin Keller, Archie's first openly gay character, has become more popular and more prominent in the comics. Archie Comics is outpacing all the other independent publishers and rocketing past the Big Two in terms of how much they're moving the comics industry forward.
So there we go — 16 grand, fun comics series. And I think I'd still have to declare 2011 one of the worst years for comics we've seen in a long time. Almost half my list is made up of comics that were cancelled, will be cancelled in the next few months, or are in continual danger of being cancelled. DC enjoyed a nice sales surge in the first few months of the Reboot, but the numbers on many of their series are already dropping back to more normal levels. And they spent months alienating and angering long-time fans in one public relations disaster after another. Not that Marvel has fared much better — they've been cancelling comics hand over fist. The independents have a better track record for producing good comics — but of course, they've also had more trouble getting those comics sold.
2011 has been an awful, terrifying, depressing year for comics fans. I'd like to tell you that I think 2012 is going to be better. But I don't think I'd get my hopes up very high. No one's learned any lessons from this year's catastrophes, and I'm not even sure the Big Two are even capable of doing anything other than shooting themselves in the foot.
Let's just hope the non-comics portions of 2012 will be better for all of us. Y'all stay safe, buckle up, call a cab if you need to.