Captain America and the Mighty Avengers #5
First things first: Ladies and gentlemen, that is just about the worst comic book cover I've seen this year. Maybe all of last year, too. It's a terrible, muddy, over-chaotic muddle with a style entirely different from the art between the covers.
Now that that's out of the way — forget the cover. What we've got inside is a just plain wonderful comic book. Or rather, what we've got inside is a pretty typical comic — until the last page happens.
While Monica Rambeau experiments with her light powers by adopting the form of the Blue Marvel — in the altogether, as they say in the hipster circles — Dr. Positron, the Marvel's mad scientist son, shows up for a short brawl with the Marvel, Monica, and Spider-Man before revealing that he's found his brother in the Neutral Zone, but he'll need help to get him out. Elsewhere, Power Man and White Tiger go hunting for whoever killed Gideon Mace and run into way more trouble than they can handle. And Luke Cage and Jessica Jones have a meeting with Jason Quantrell, sinister CEO of Cortex Incorporated — and we learn who's really behind Quantrell's diabolic grin.
Verdict: Thumbs up. No spoilers, folks, but no kidding, when I read the last page of this one, I sat there in Flabbergasted Jawdrop Mode for at least 30 seconds. I don't know if they can follow up with the promise of that last page, but I'm really looking forward to the next issue now.
Red Sonja #100
Well, it's not really the 100th issue of this series, but they figure they've got the 100th issue to feature Sonja. Sounds iffy to me, but it makes a decent anthology comic. We've got creators ranging from Gail Simone to Roy Thomas to Michael Avon Oeming and many more. We get Sonja facing off against spider demons and mutated Rapunzels, we get Sonja taking on an unexpected assistant in a battle against a monster, and we get Sonja meeting one of her own heroes and earning a few wishes.
Verdict: Thumbs up. An incredible variety of stories offered here — some classic hack-and-slash battles, some more introspective stories, and all of them excellent reads. It's especially wonderful to see a story by Roy Thomas, Sonja's creator.
Batgirl #39
All of a sudden, everyone in Burnside is after Batgirl — whoever's running the Hooq app is offering $20 million for her capture, dead or alive. And Barbara is being plagued by weird memory troubles, too. She enlists the aid of Black Canary, then realizes that her brain scan is part of Hooq's programming — is Batgirl trying to kill herself?
Verdict: Thumbs up. Nice art and a much more relateable story. This comic's emphasis on social media and smartphone apps is making more sense now, and it'll be interesting to see where things go from here.
Silver Surfer #9
Galactus has come to the planet Newhaven, home to the last survivors of millions of worlds destroyed by the Eater of Worlds. Rejected by Dawn, the Surfer heads out to stop Galactus — by surfing the planet's moon into his face! That gets Galactus' attention, but he reacts by stripping the Surfer of his cosmic powers, leaving him powerless and adrift in space. Can anyone stop Galactus now?
Verdict: Thumbs up. Outstanding art, as always, from Mike and Laura Allred. Big ups for Dan Slott's story, too — surfing a whole moon is pretty inspired, even if it'd pretty obviously be something Galactus would shrug off. I'm assuming Norrin will get re-powered next issue — but with this comic, who knows?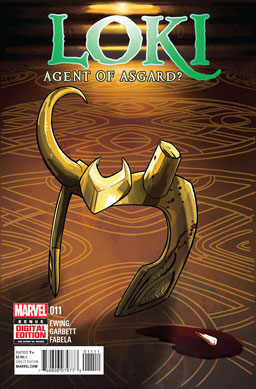 Loki: Agent of Asgard #11
Everyone in Asgard is mad at Loki. Loki is very depressed. Old King Future Loki is very mean.
Verdict: Thumbs down. Just a bit too overdone on the woe-is-me stuff.